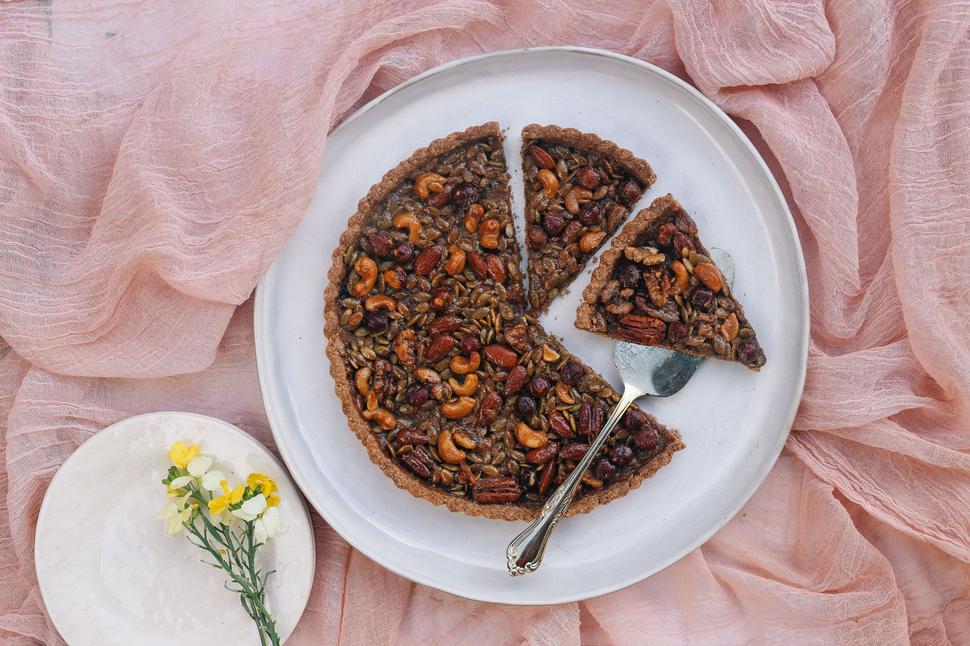 Nut & Seed Tart With Salted Maple Caramel
Caramel lovers, this one is for you
Thursday July 26, 2018
This is a glorious nut and seed tart recipe for all occasions. I love how quickly the pastry comes together – it's surprisingly simple and easy to handle, and there's no chilling involved. The best part, however, is the deeply delicious brown butter and salted maple caramel filling, which ties it all together magnificently. Serve with some decent vanilla ice cream, and you have a truly beautiful dessert. 
NUT & SEED TART WITH SALTED MAPLE CARAMEL RECIPE
Makes 8 slices 
Tart pastry:
1 ½ cups wholemeal spelt flour
2 Tbsp pure maple
½  tsp ground cinnamon
¼ tsp sea salt
100g chilled unsalted butter, cut into cubes
2-3 Tbsp ice water
Caramel filling:
100g unsalted butter, cut into cubes
1/3 cup pure maple syrup
½ cup pure cream or coconut cream
2 free range eggs 
1 ½ cups mixed seeds and nuts
½ tsp pure vanilla extract
½ tsp sea salt
1. Preheat your oven to 180C and grease a tart tin with a removable bottom.
2. Add all pastry ingredients to a food processor, except for the ice water. Pulse until the mixture resembles coarse crumbs. Gradually add water, whilst processing on low, until the mixture starts to come together like a dough.
3. Turn the dough out on to a floured surface, and roll out into a circle, slighter larger than your tart tin. Press onto the bottom and up the sides of your tart tin, and then trim the edges.
4. Prick your pastry all over with a fork, and then bake until lightly golden, about 8-10 minutes. Remove from the oven and allow to cool while you make the caramel.
5. Add the butter to a medium sized saucepan, and cook over low heat, until fragrant. Pour in the maple and cream, and simmer, whilst stirring, for about 3-4 minutes, until it turns golden brown. Remove from the heat and allow to cool until warm. Whisk in the eggs, one at a time, then fold in the nuts, seeds, vanilla and sea salt.
5. Carefully pour the caramel mixture into your tart pastry, and spread out evenly.
6. Bake for a further 15-20 minutes or until bubbling.
7. Remove from the oven and allow to cool before slicing into pieces. Makes 8 generous slices and will keep in an airtight container for up to 5 days.
Share this:
More Food & Drink / Recipes