15 Tasty Recipes with Nuts
To celebrate National Nut Day, here's a reminder of how to use these crunchy parcels of goodness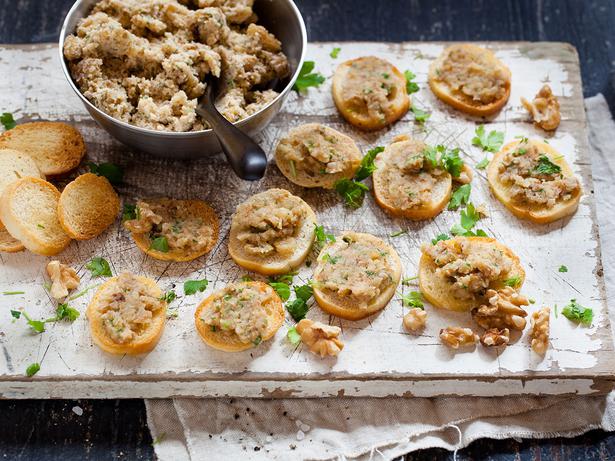 Tuesday Aug. 1, 2017
Walnut and Garlic Spread
This walnut and garlic spread recipe is great to make and have in the fridge. It's even better made ahead of time. If you are feeling extravagant, or it's a special occasion, try switching the walnuts for pine nuts.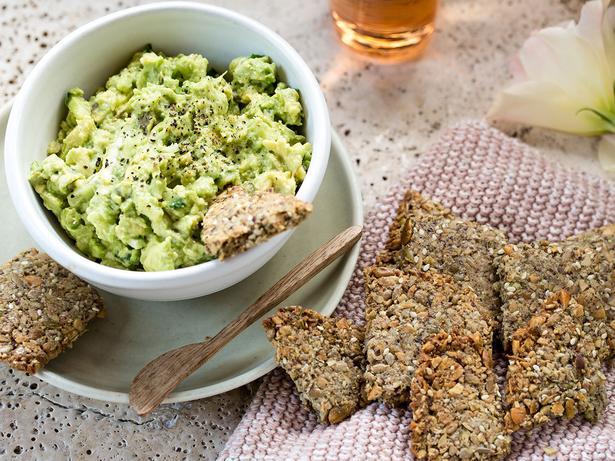 Seed and nut crackers with avocado dip. Picture / Babiche Martens

Seed and Nut Crackers with Avocado Dip 
These seed and nut crackers are so moreish you don't really need a topping. Here, they've been topped with homemade avocado dip. Another more decadent option is delicious blue cheese and a drizzle of honey. Vary the seeds you use — these crackers can be a good way to use up the annoying dregs you often have left in the bottom of a packet.

Pistachio and Almond Cake
This is a delightful and nutty cake made with equal portions of ground almonds and pistachios. Frozen raspberries are sprinkled throughout the cake, which is best served with a dollop of cream or yoghurt.

Peanut Sauce
Angela Casley has been churning out peanut sauce in my kitchen for years. It's always a winner at a cocktail party, served with dainty chicken kebabs or spooned over a grilled lamb chop or steak. If you don't have raw peanuts, replace with half a cup of crunchy peanut butter. Spice it up a little with an extra pinch of chilli if you can handle it.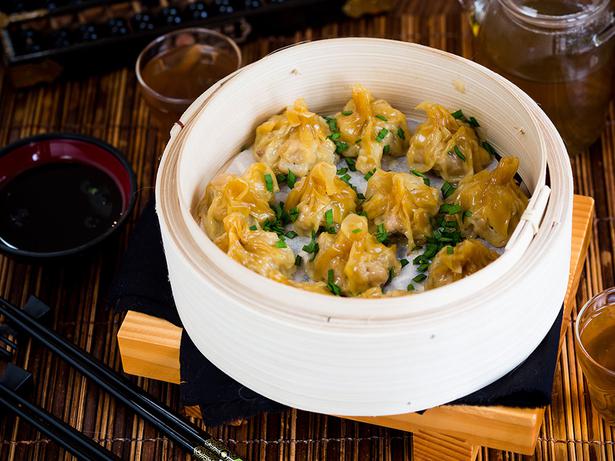 Steamed Pork and Chestnut Dumplings
The easiest way to use wonton wrappers (which you will find at Asian supermarkets) is to fill with something tasty and steam them. Use a mixture of pork and prawn with added flavours. They can be made in a range of shapes; different regions in China have particular shapes that define their dumplings. Gather the edges together and cooked them in a steamer over simmering water, then served with a delicious dipping sauce of chilli and soy.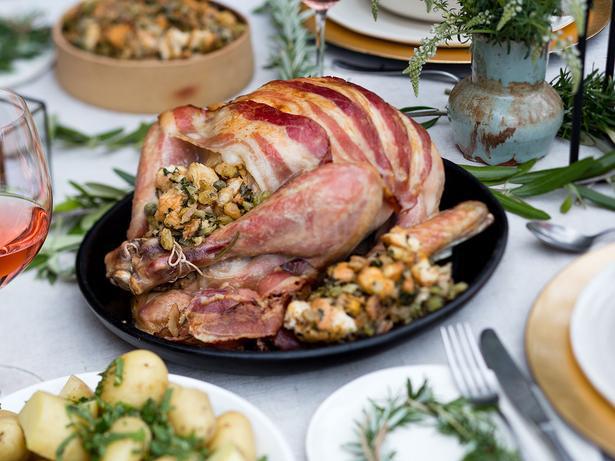 Walnut and Raisin Stuffing
This stuffing recipe was developed for the Christmas turkey but don't let that stop you from trying it out with chicken or even lamb. It's a sweet and nutty stuffing that has a good hit of bacon, capers and fresh herbs. 
Three-ingredients Walnut Cake
Eleanor Ozich had this to say about her walnut cake, "This flourless walnut cake is quite possibly the simplest cake I have ever made. Incredibly moist, the recipe calls only for three ingredients, walnuts, eggs and natural unrefined sugar. I have used rapadura, although coconut sugar or muscovado would work well".
Walnut and Barbecue Chicken Salad
This is a fresh summer salad that can make it onto the menu when something light is desired. Cherry tomatoes and apple give it a sweet crunch which is balanced nicely with the peppery notes of the watercress.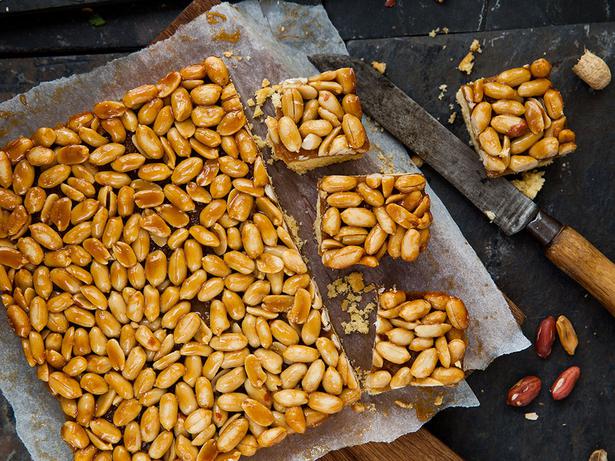 Peanut caramel slice. Picture / Babiche Martens

Peanut Caramel Slice
Angela Casley inherited this peanut slice recipe from her mother. She recommends making plenty to stock up the tins. Few can resist the yummy, sticky golden syrup and peanut topping.

Almond Butter and Coconut Truffles
Eleanor has used carob because of it's delicate malt flavour, which is lovely paired with a little maple to sweeten. To offset their richness, a little shredded coconut adds lightness and beautiful crunch. Unfussy to make, and makes for a handy snack to have on hand in the pantry. 

Pumpkin and Pine Nut Tart
A block of puff pastry in the freezer will come into its own. Use it to whip up this very easy pumpkin tart when visiting friends or going on a picnic.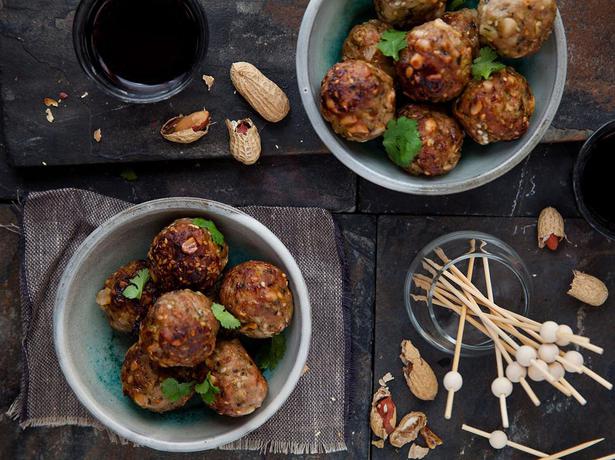 Peanuts bring wonderful texture and flavour to these pork and peanut balls. Picture / Babiche Martens

Pork and Peanut Balls
In these pork and peanut balls, the nuts add flavour and an unexpected crunch. Cook them in the oven to avoid mess — you can cook them all on one tray. Serve them hot as-is, or with your favourite sauce; sweet chilli is always popular.

Pear and Brazil Nut Cake
Pear, cardamom and brazil nut are the stars of this cake by Eleanor Ozich. They have a natural affinity for each other and are quite lovely for early spring, in this golden, textured cake recipe.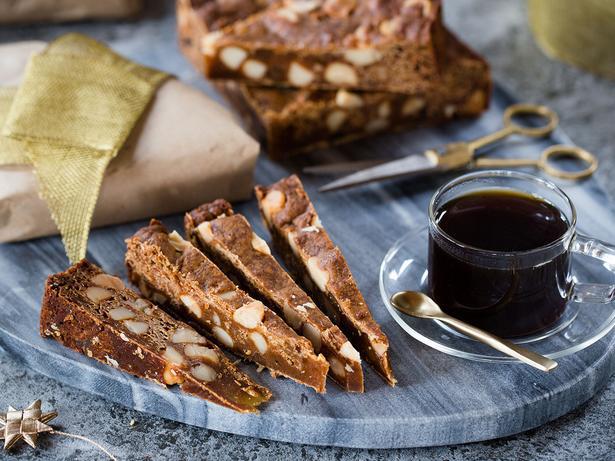 White chocolate panforte. Picture / Babiche Martens

White Chocolate and Macadamia Panforte
This white chocolate panforte is deliciously decadent. It's a great Christmas treat however it's perfectly fine make it anytime. You'll find you'll be slicing a bit off it each night to have with your coffee. It's a real treat — crunchy macadamia, with a hint of ginger and gooey white chocolate. You could make smaller serves to wrap individually as gifts. 

Pumpkin and Pecan Ice Cream
If you're lucky enough to have an ice cream machine, this will be an interesting one to make. A sweet and nutty dessert with hints of spice, makes this very very nice. 
Share this: