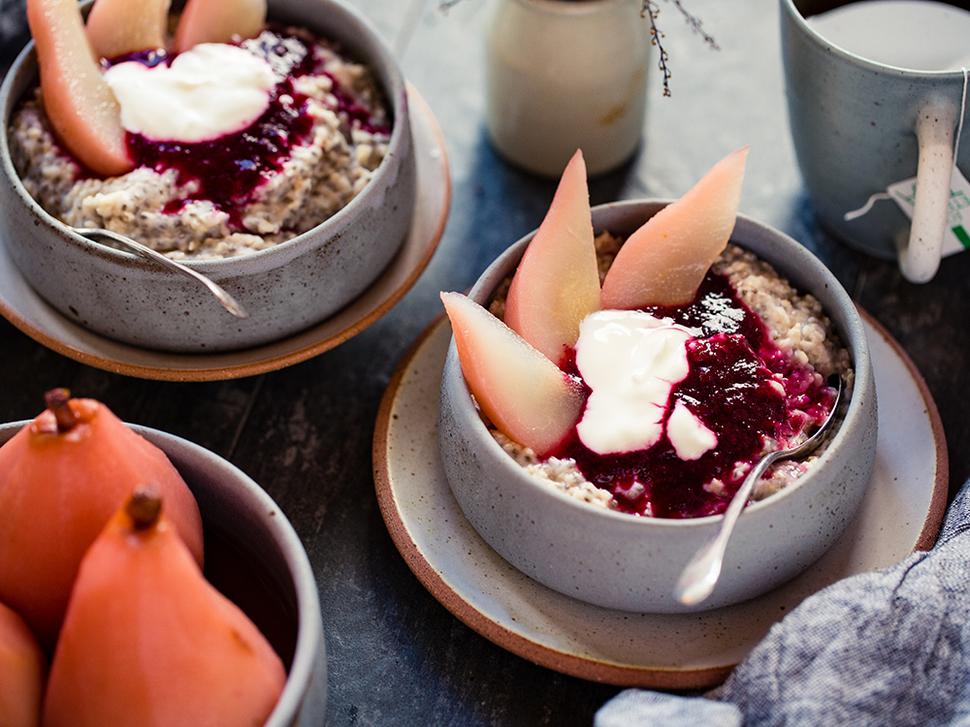 Oat & Chia Porridge With Poached Pears
Warm up with this cosy, wholesome porridge for breakfast
Saturday May 11, 2019
Chilly weather means time to get that pot on for porridge. In this recipe, the chia adds extra texture, while the poached pears transforms the dish into something special.
OAT & CHIA PORRIDGE WITH POACHED PEARS RECIPE
Serves 4
Ingredients
Poached pears
4 pears, peeled
½ cup sugar
Juice of ½ lemon
Water to cover
Porridge
1 cup rolled oats
½ cup black chia seeds
1 cup milk
1 cup water
¼ tsp salt
To serve
1 cup frozen berries
2 Tbsp sugar
1. Firstly poach the pears. Place them into a large pot with the sugar, lemon and cover with water. Bring to a simmer for 15 minutes until a skewer will insert easily. Remove and cool completely in the liquid.

2. Place the berries and sugar in a small pot. Cook for 5 minutes or until the berries are completely soft. Push through a sieve, discarding the pips.

3. For the porridge place the oats, chia seeds, milk, water and salt into a pot, bringing to a simmer. Cook for 5-8 minutes, stirring until thickened and creamy. Add a little extra water if needed.

4. Serve hot with chopped pears and a drizzle of fruit puree.
Share this:
More Food & Drink / Recipes