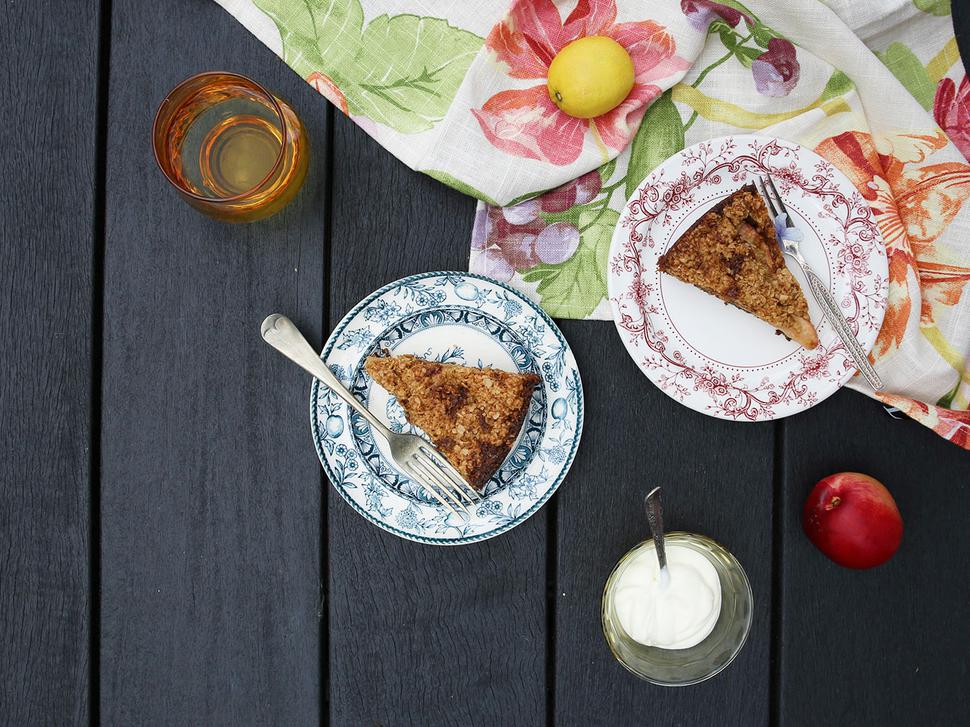 Oat Crumble Cake Recipe with Stone Fruit
Try Eleanor Ozich's delicious and unfussy oat crumble cake recipe
Thursday Jan. 14, 2016
On a midsummer day I make an oat and nectarine crumble cake that smells of almond and lemon zest. A dense golden cake with a crispy caramelized crust. Filled with slices of ripe stone fruit, topped with a pebble-like crumble. Sweet and unfussy to make, cut in to thick slices and serve with tangy yoghurt.
OAT CRUMBLE CAKE WITH STONEFRUIT
Serves 8 
For the cake:
• 2/3 cup or 150g unsalted butter or coconut oil, melted
• ¾ cup muscovado, coconut or rapadura sugar
• 2/3 cup ground almonds
• ¾ cup rolled oats
• zest of one lemon
• 2 free range eggs
• 2 tsp vanilla extract
• 1 tsp baking soda
For the topping:
• 4 nectarines, sliced in to wedges
• ¼ cup unsalted butter, softened
• ¼ cup muscovado, coconut or rapadura sugar
• ½ cup rolled oats
1. Preheat the oven to 160 C. Line a cake tin with baking paper.
2. Add all cake ingredients to a bowl, and mix until well combined. Pour in to the prepared cake tin, and smooth out evenly.
3. To make the crumble, combine the butter, sugar and rolled oats. Gently rub the butter in to the dry ingredients until you have a crumb like consistency.
4. Arrange the nectarines evenly on top of the cake batter, and then loosely scatter the crumble on top, allowing it to fall amongst the fruit. Gently press down.
5. Bake for 50 minutes to an hour, until golden coloured and lightly firm in the middle.
6. Leave to cool completely before removing from the cake tin.

• For more from Eleanor Ozich see petite-kitchen.com
Share this:
More Food & Drink / Recipes