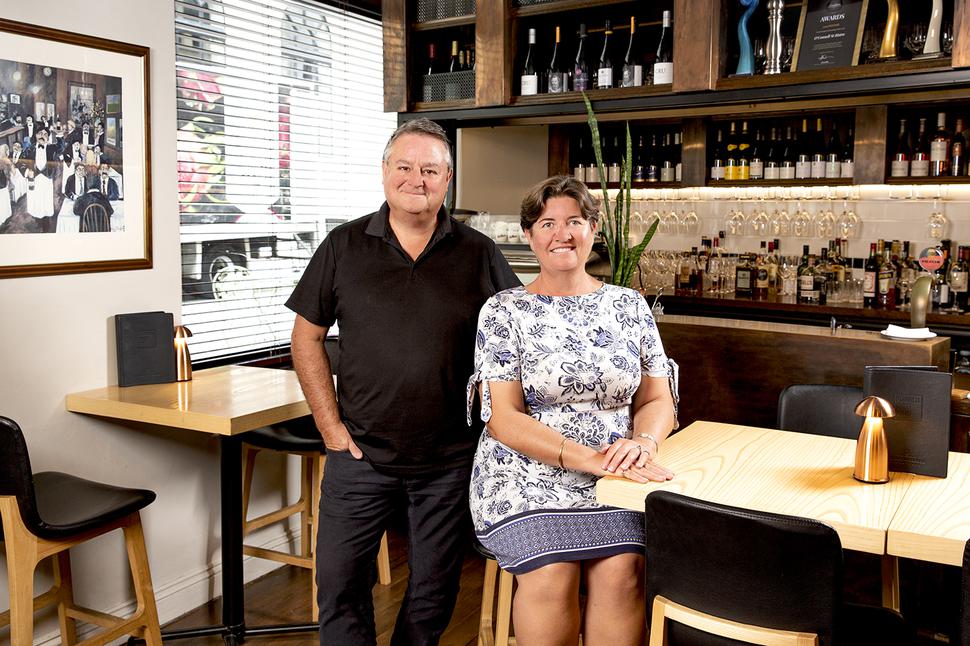 An Ode To O'Connell Street Bistro
After 24 years in business, Chris Upton and Amanda Mason are reluctantly closing the doors on their beloved O'Connell Street Bistro
Saturday March 27, 2021
As Chris Upton and Amanda Mason prepare to permanently shut the door on their much-loved O'Connell Street Bistro, they are saddened at letting their regular customers down.
Regulars who have been receiving Chris' personal attention for nearly a quarter of a century.
"We have a gentleman who still comes in who was the first person to walk in the door when we opened 24 years ago," says Chris. "We have people who used to come in as children now bringing their children in — it has been amazing to see the generational shifts over time."
There are lots of stories — many revolving around Chris and Amanda's exceptional care and attention, such as the company who the bistro caters to in their offices making a request for sausage rolls.
"We don't do sausage rolls but the chefs made some and they're now a regular order — but only for them," Chris stresses.
They have "wonderful memories" and the news of O'Connell Street Bistro's closure will bring back memories for many others.
I cut my work-lunch-over-a-bottle-of-chardonnay teeth at the Bistro and it was here that my partner was wined and dined by my friend 21 years ago to gauge his boyfriend suitability — he was deemed a keeper.
It's that sort of place. Many a special occasion celebrated; many a business deal made.
The restaurant's location on the corner of O'Connell St and Shortland St saw it filled for lunch five days a week with judges, lawyers and business execs, and Chris talks of the early days when stockbrokers would lean back in their chairs and take in the conversations happening at other tables in the intimate dining room; using the paper on top of the tablecloths to take notes and occasionally leaving them behind. "Secrets and insider knowledge," Chris laughs. "And I couldn't possibly comment any further."
A true hospo couple, Chris and Amanda met at QE2 Square's Park Royal (now the Grand Mercure), where Chris was restaurant manager and Amanda duty manager.
From there it was a stint at Pauanui's Puka Park Lodge, before starting Cafe Melba in Vulcan Lane in 1995, where Chris changed the cafe landscape.
READ: Restaurant Review: Ahi Offers Unsurpassable Artistry On A Plate
"In most cafes you would order at the counter before taking a seat. My background was more formal than that, so I swapped things around by greeting people and asking them to take a seat. I would take them water and ask for their order. People liked this style of service and we became popular with a wonderful mix of people."
O'Connell Street Bistro was born when Chris found a little space down the road.
"It took us six months to rebuild a very rundown cafe into O'Connell Street Bistro. We opened in 1988 and were barely four months old when we suffered the power crisis [a five-week long power outage affecting Auckland city] and closed it for the duration. We had three generators at Melba, so we took the bistro team up there and opened in the evenings with a power crisis menu and a barbecue outside. We did well, people came and supported us and we gained a lot of respect. We stared it in the face and said, 'We can do this.'"
Facing issues similar to those of Covid, they say, "It was another interesting and tiring time. Lining up at the council office to get our $1500 cheque to go towards paying our staff, and the council warning people to stay out of the city."
As they talk of juggling the two businesses — opening Melba at 6.30am before Amanda headed to her hotel job; Chris spending the day standing at the top of Vulcan Lane, where he could see who was going into the cafe and the restaurant, running between the two to ensure everyone was being looked after, then leaving at midnight after dinner service at the Bistro — I understand why they got out of Melba.
They correct me. "We had no plans to sell Melba. It was running well and we were enjoying it but someone came to us with an offer and we took it, thinking it would be good to focus on just one business."
But that didn't happen. AMP approached them to run the food and beverage facilities at the new PWC tower and, in partnership with Sean Armstrong (the Bistro's head chef at the time), created the espresso bar and Prime bistro.
They sold Prime in 2005 and the espresso bar in 2007 and gave their full attention back to the restaurant.
"It was a refreshing return to O'Connell Street Bistro for me," says Chris. "I was able to make my presence felt again and that's the way it has been ever since."
READ: Restaurant Review: East Street Hall Rises Quickly & Exquisitely
That presence is nothing short of exceptional. He is the most consummate of hosts who deserves time to look after himself. But he says that he's not ready to go.
"We live and breathe it, we love what we do, we love our customers and working with our team. I'm only 58, I've still got a bit of life in me."
Amanda, who works behind the scenes managing the paperwork, HR, marketing and such things as the sourcing of obscure ingredients, agrees, "but we're just not sure we have another eight years in us".
Staring down the barrel of having to sign an eight-year right of renewal on the O'Connell Street lease has forced the closure, following six months of failed negotiations with the landlord.
"It was a hefty amount of money to find when we were operating successfully, but with reduced patronage through Covid we would be foolish to sign a long-term lease. The insecurities also mean we cannot raise the hourly rates for many of the team who have been with us a long time, so it's only fair to let them go where they can be recognised financially. We hoped that the CBD would resurrect itself, but they do say you can't run a business on hope. It has been a difficult decision to make."
It is sad to hear this from the powerhouse team who also survived a well-documented fire in 2016 that saw them lose 99 per cent of everything in the restaurant. There was no question
of closing back then.
"We weren't ready to go then, just as we aren't now. We were determined to bring the Bistro back for our customers and not give in to what was a devastating time, but I think that with the support of our insurers it has a totally different feel to what we are going through now," says Amanda.
"Those insurers looked after us well — they used to call O'Connell Street Bistro the second boardroom, so it was in their interests to get it back open," adds Chris.
The fire brought opportunity to refresh the restaurant and make it better. "It actually feels like we've had two bistros," says Amanda.
After the final dinner service on Friday, April 16, O'Connell Street Bistro will be packed away into a 12m container for safe keeping — which gives hope of a comeback?
"We'll see," they laugh. "We are not racing into anything. We will take time to get our heads straight and see what happens when borders open." This will be the first time in 26 years that they have had such freedom and admit that it's a daunting prospect, saying, "We're up for it!" Of course they are.
READ: Restaurant Review: Find Brilliant Bites At Clay Wine Bar
Chris's reply to my concerns for the Bistro's renowned wine cellar is: "Well, Jo … one needs something to drink when not working."
Amanda assures me that it will be relocated to a secure property away from their grasp. "We will enjoy a bottle or two, but it is our hope that it will take pride of place on another wine list in years to come." (More signs of a comeback?)
The cellar is close to Chris' heart. "It has been a special part of O'Connell Street Bistro that I have enjoyed immensely. We have taken the original two-page wine list to a 10-page monster and there is so much passion behind every single wine. It has been a real pleasure."
Wine features in many of Chris's highlights, including a recent dinner with Ata Rangi celebrating 40 years of winemaking where O'Connell Street Bistro head chef Mark Southon created a menu based around ingredients from the Martinborough region.
He's proud that the Bistro was the first to host a "family dinner" when The Family of Twelve (a collab between 12 iconic New Zealand vineyards) was established in 2005.
"We have been part of the celebration of many vineyards' achievements over the years," says Chris. "We do it well."
But perhaps this Queen fanboy's number one highlight is the day that drummer Roger Taylor walked in.
"I nearly wet my pants," beams Chris. "The restaurant was full but I fit him in and wouldn't let anyone else look after him." They had a great time and got a photo for the skite book, which also contains all the restaurant's press clippings and reviews.
The first review ran in Viva in June 1998, with Sarah-Kate Lynch summing it up as, "Worth a look. Worth the money. Worth going back for more."
The bistro has held the prestigious Wine Spectator Award of Excellence for 17 years, the New Yorkers simply saying "flawless" as they passed their card to Chris on the way out after dining incognito. Another review gave them five out of five just for the fudge.
We have but a few weeks left to dine at the bistro and, although that russian fudge with roasted macadamias is no longer being served, the rabbit pappardelle, made the same way Sean Armstrong did back in 2000, is.
The steak tartare's still there, made as Chris was taught in the late-70s at Cardiff's Angel Hotel, sitting alongside Mark Southon's modern European bistro dishes.
If you'd like one more taste or, for goodness' sake, if you've never had a taste, act now, because we must say farewell dear friend, thanks for the memories.
Share this: