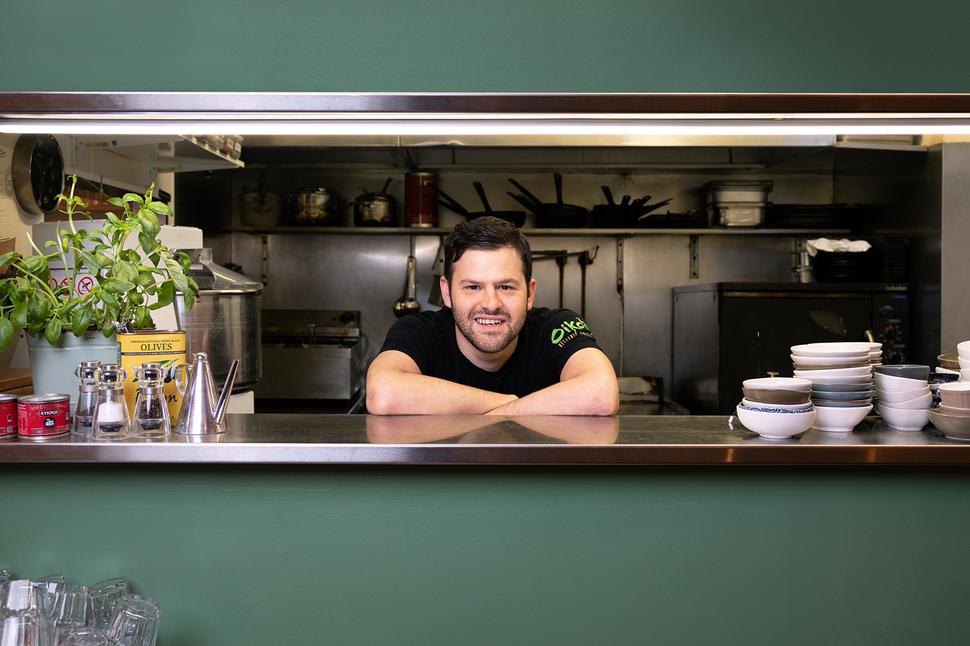 Dining At Theo Papouis' Oikos Is Like Attending An Authentic Greek Dinner Party
His Wellington restaurant pushes past kitsch into the realm of relaxed yet lively Hellenic food
Tuesday Jan. 26, 2021
Greek restaurants are often recognisable by the decor: the chairs are blue, the tables are white, and there's a mural of a Santorini sunset somewhere on the walls.
But Theo Papouis says he wanted to steer clear of cliche when he opened his Wellington restaurant Oikos, where there's not a kitsch cultural artefact in sight and the essence of Greece comes from the rustic food and lively vibes.
"I wanted this to be all about the food. I didn't want you to feel like you were in a souvenir shop."
Theo says his father had an old-school Greek view of cooking as a profession; having worked in the industry as an immigrant he knew it was hard and wanted something better for his son, urging him to "use your brain, not your hands".
But Theo didn't listen. He finished culinary school then went to work in the UK and on to Cyprus — where his family are from — where he was the personal chef to the American ambassador for five years.
There he became deeply acquainted with his culture, honed his Greek language skills and spent long balmy nights at taverns with good friends.
He learned how to make fresh halloumi and cooked over charcoal, foraged for wild greens and herbs, and became accustomed to a laid-back style of eating.
READ: Waiheke's Culinary Convoy: Meet The Food Truck Operators Shaking Up The Island's Dining Scene
"One of the things I loved about my time in Greece was that you go to a tavern and you don't even look at the menu. You just say you want small plates and you get fed from start to finish."
Back in Wellington, the sharing menu at Oikos recreates this experience as tables are laden with pita bread, tzatziki, village salad, sesame-crusted feta, grilled chicken skewers and slow-roast lamb shoulder.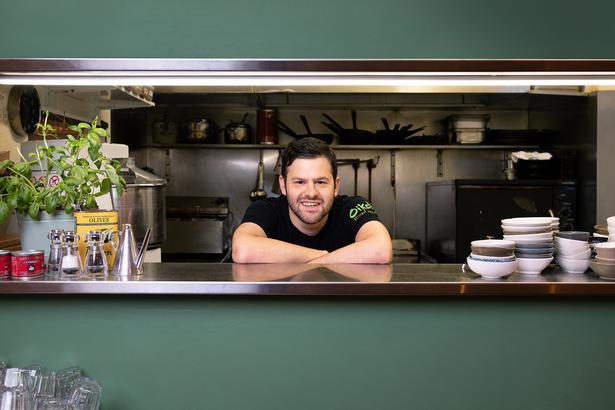 The restaurant sits across the road from a Greek church, in a building that used to be a house, the old floorboards and musty green walls adding to the homely feeling.
It's loud, relaxed and in no way stuffy, tables get moved and diners shuffled around to make more space.
READ: Legendary Chef Peter Gordon Returns To New Zealand Amid Changing Times
"I never imagined that I would have a restaurant where we don't have enough seats and have to turn people away because we can't fit them in. It's like having a dinner party every night where I'm the host."
Theo operates with a Mediterranean mindset, making his own filo pastry, pasta dough and pita bread; and growing cabbage, cavolo nero, broad beans, lettuce and strawberries in a small garden out the back of the restaurant.
He celebrates the diversity of Greek cuisine beyond what most Kiwis are familiar with.
Salty cheeses, honey, lemon, herbs, mint, oregano and thyme are easily recognisable as staples of the Greek pantry, but a glossary down the bottom of the menu helps to decipher the less common, such as tyrokafteri spiced whipped feta; hilopites, a small square Greek pasta; pasteli honey nut brittle; and loukaniko, a house-made sausage fragranced with garlic and paprika.
On some nights, the restaurant transforms into a rowdy tavern with live music, carafes of wine and ouzo, and very rarely Theo lets one Greek cliche slide.
"When I opened I swore a plate would not get smashed in my restaurant," but it's so much fun that, sometimes, he can't resist.
"I don't try to advertise it, because it's a lot, but occasionally I will order some plates and we will drink ouzo and really smash it up."
– Originally published in Viva Magazine – Volume Two
Share this: