Olive and Rosemary Ciabatta Recipe
Make your own bread fresh and warm from the oven, says Angela Casley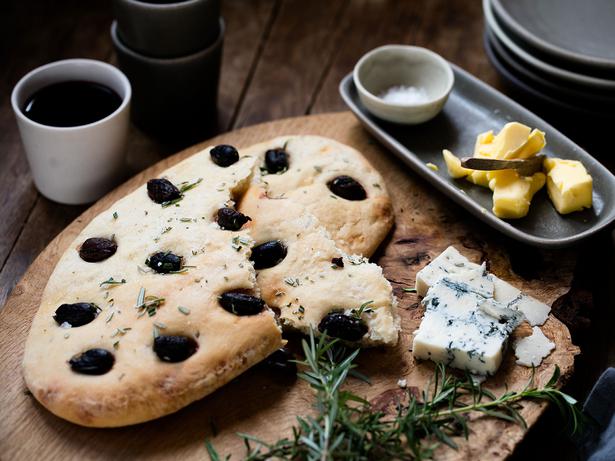 Friday June 24, 2016
To channel your inner artisan, nothing beats making your own bread and eating it fresh and warm from the oven. There is something wonderfully satisfying and old-fashioned about kneading the dough by hand.
The key to making bread is to ensure the water is the correct temperature — just above body heat — to make the yeast work. Too hot and it will kill the yeast, too cold and it will not activate. If you have bread left over, use it to make toasted crostini or tear it up to make croutons for sprinkling over soups or salads.

OLIVE AND ROSEMARY CIABATTA RECIPE
Makes 2 large or 3 smaller loaves
3 tsp dried yeast
1 tsp sugar
300ml tepid water
4 cups flour
2 tsp flaky salt, and extra to sprinkle
½ cup olive oil
2 Tbsp chopped fresh rosemary
½ cup black kalamata olives
1. Place the water in a jug or bowl. Combine yeast and sugar, then sprinkle over the water. Allow to sit in a warm place until the yeast becomes frothy.
2. Place yeast mixture into large bowl of a mixer. Add half the flour, salt, and half of the oil. Mix until it becomes a soft dough. Slowly add the remainder of the flour, the rosemary and half the remaining oil. Knead with the machine (or use your lightly floured hands) until the dough is silky smooth. Place in a lightly oiled bowl, cover and leave in a warm place for an hour or until doubled in size.
3. Tip dough on a lightly floured bench and punch down, then knead for five minutes.
4. Divide dough into three. Shape each into a flat oval and place on a baking tray. Push olives into the top of the dough at even intervals. Cover with plastic wrap and return to a warm place to rise again for 40 minutes.
5. Preheat oven to 185C
6. Drizzle the loaves with oil and sprinkle with salt. Bake for 25 minutes until golden and risen.
7. Serve warm with your favourite cheese and chutney.
Share this:
More Food & Drink / Recipes