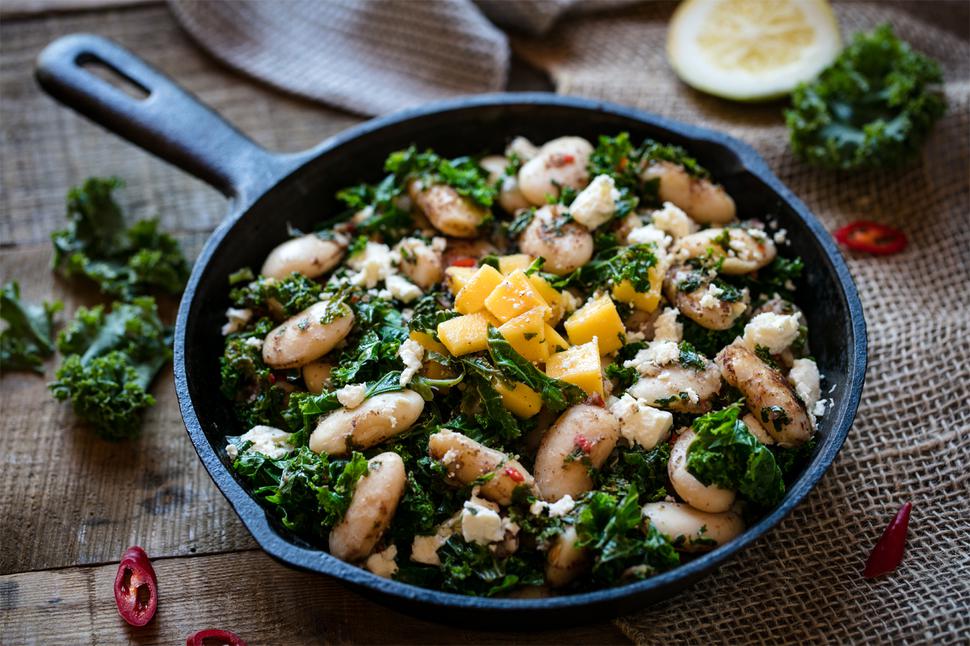 One-Pan Garlic Butter Beans With Sumac, Kale & Feta
Small effort leads to big flavour in this simple vegetarian dish
Friday June 1, 2018
Save yourself time by using quality ingredients that are quick to cook and simple to prepare, like in this one-pan recipe. Sometimes, I add mango to this butter bean dish when they are plentiful and a good price. They do add a lovely ripe sweetness, but aren't necessary. The lemony fragrant sumac matches beautifully with large moist butter beans and wilted kale.
ONE-PAN GARLIC BUTTER BEANS WITH SUMAC, KALE & FETA 
Serves 2
2 Tbsps olive oil
1 onion, chopped finely
3 cloves garlic, sliced thinly
2 tsp sumac
1 Tbsp finely chopped red chilli
1 ½ cups butter beans, rinsed
4 cups chopped kale
1 tsp lemon zest
¼ cup lemon juice
Salt and pepper to taste
100g crumbled feta
½ cup chopped mango (optional)
1. Heat the oil in a frying pan to a medium heat. Add the onion and garlic, cooking for 4 minutes to soften.
2. Stir through the sumac and chilli until fragrant. Add the butter beans and brown slightly.
3. Add kale, zest and juice and cook until wilted.
4. Season to taste with salt and pepper.
5. Crumble over the feta and serve warm topped with mango if using.
Share this: