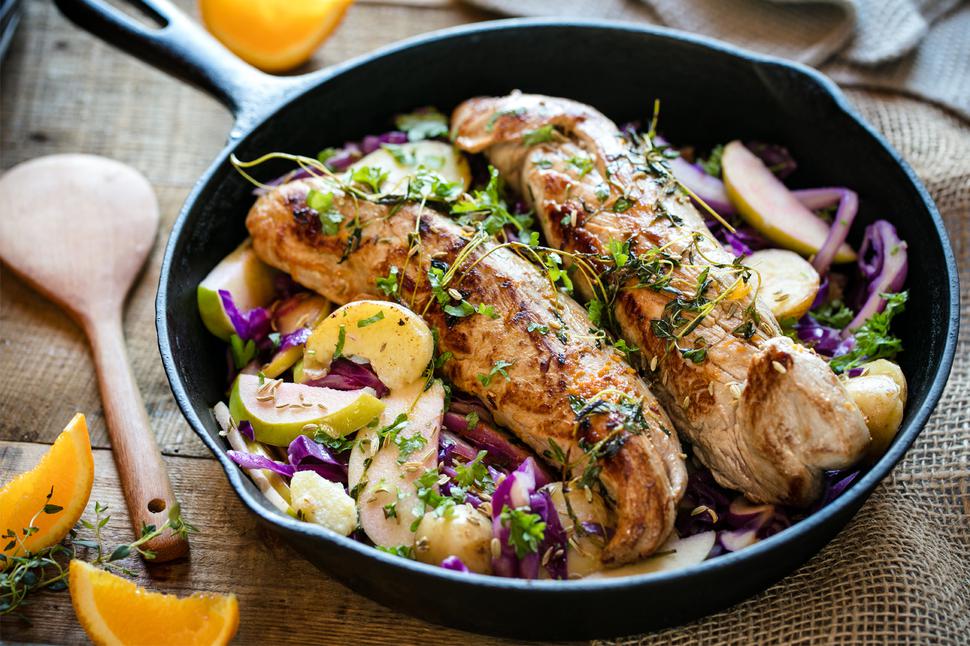 One-Pan Pork Fillet With Apple, Potato & Red Cabbage
Save on the washing up with this easy weeknight meal
Thursday May 31, 2018
Some leftover potatoes have helped to make this pork fillet recipe into a cook-in-one-pan meal. I've then sliced the fillet and served it in the same dish — perfect. Remember if the pork fillet is a little pink it will be extra succulent and tender.
ONE-PAN PORK FILLET WITH APPLE, POTATO & RED CABBAGE
Serves 4
2 Tbsp olive oil
2 pork fillets
1 onion, chopped
2 cloves garlic, crushed
2 tsp fennel seeds
1 Tbsp chopped thyme
1 green apple, cored and sliced
8 new potatoes, boiled and halved
3 cups shredded red cabbage
Juice of ½ orange
½ cup white wine
1 tsp salt and freshly ground pepper
2 thyme stalks
Salt and freshly ground pepper
1. Preheat an oven to 180C.
2. Heat 1 Tbsp of oil in a heavy frying pan. Brown the pork on all sides. Remove from the pan.
3. Heat the remaining oil in the same pan. Add the onion and garlic, cooking for 3 minutes to soften. Add the fennel seeds and chopped thyme and cook for a further 2 minutes.
4. Stir through the apple, potatoes, cabbage, orange juice, wine, salt and pepper. Cook for 5 minutes until the apples start to soften and the cabbage wilts.
5. Place the pork on top of the vegetables with the thyme stalks, then place into the oven for 15 minutes until cooked through.
6. Let the pork sit for 5 minutes before slicing and serving.
Share this:
More Food & Drink / Recipes