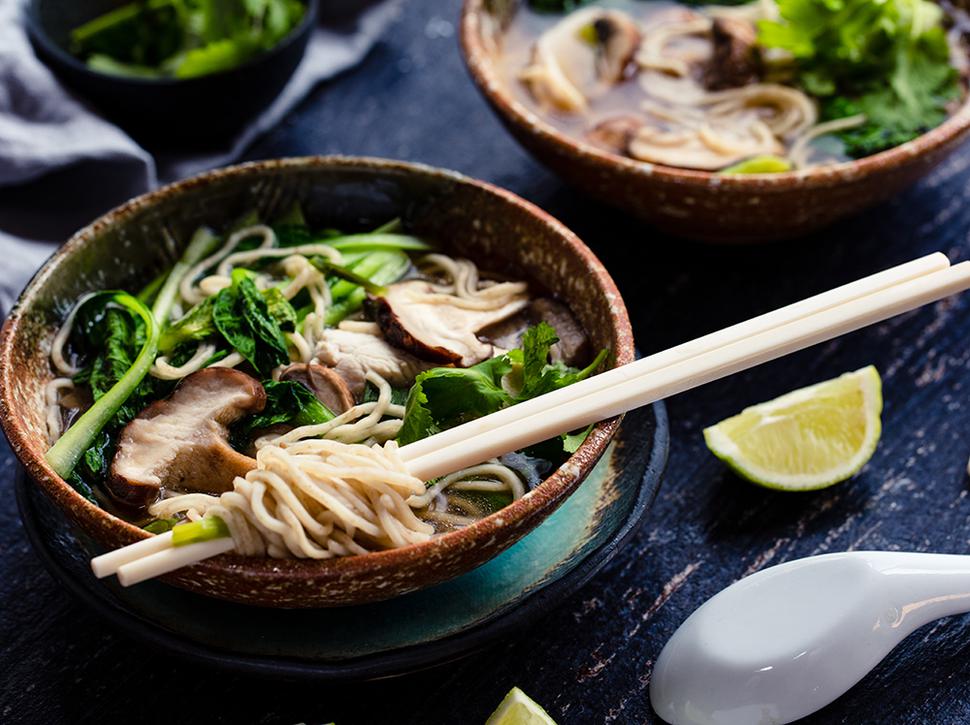 One-Pot Chicken Noodle Broth With Asian Greens
Save time on dinner and dishes with this cosy one-pot recipe
Friday June 29, 2018
There's nothing quite so simple as a sotanghon, a Chinese soup or broth. The key is a really flavoursome, preferably homemade chicken stock. Perfect for a midweek dinner, this recipe is a one-pot wonder. Fresh noodles are best, if you can get them, but don't feel constrained if not. Use whatever is in your cupboard, this is meant to be hassle-free. Sliced Chinese cabbage is also a great addition.
ONE-POT CHICKEN NOODLE BROTH RECIPE 
Serves 4
1 Tbsp peanut oil
1 clove garlic
1 Tbsp grated ginger
½ green chilli, sliced
100g mushrooms, sliced
2 spring onions, sliced
1 litre chicken stock
1 Tbsp soy sauce
200g sliced chicken breast
100g Chinese-style noodles
2 bok choy, halved lengthways
1 cup mint or coriander leaves
Salt and pepper to taste
½ lime to serve
1. In a large pot, warm the peanut oil. Add the garlic, ginger and chilli cooking for 2 minutes. Add the mushrooms, spring onions, chicken stock and soy and bring to a simmer.
2. Add the noodles and chicken breast, cooking for 8 minutes until the noodles and chicken are cooked.
3. Add the bok choy and mint, cooking for a few minutes until just cooked. Season with salt and pepper.
4. Serve immediately in bowls with a squeeze of lime.
Share this:
More Food & Drink / Recipes