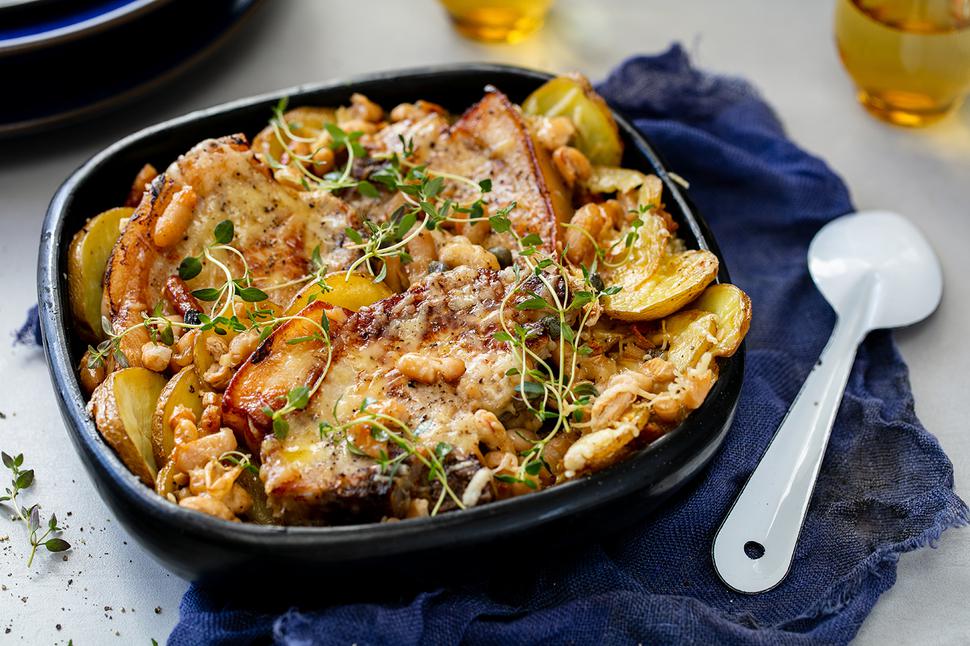 One-Pot Potatoes, Pork & Butter Beans
Full of hearty, assertive flavours like mustard and capers, this one-pot wonder is a dinner all-star
Friday May 14, 2021
Don't you love a one-pot wonder? All the prep is done beforehand, so all there is to do is cook some greens and dinner is ready to serve. You can remove the pork chops and serve the rest as a vegetarian dish, and it will be equally as good.
POTATOES, PORK AND BUTTER BEANS RECIPE
Serves 4
4 medium-sized potatoes
4 cloves garlic, crushed
2 Tbsp olive oil
4 pork chops
1 tin butter beans
3 stalks of thyme
½ cup white wine
½ cup vegetable or chicken stock
1 tsp Dijon mustard
1 Tbsp capers
Salt and freshly ground pepper
1 cup grated parmesan
1. Preheat an oven to 180C. Grease the base of a flat ovenproof tray.

2. Place the sliced potatoes on the tray and sprinkle over the garlic. Drizzle the olive oil and toss it all together. Bake for 15 minutes or until just softening.

3. Brown the pork chops in a frying pan on both sides until lightly browned.

4. Sprinkle the butter beans over the potatoes, add the thyme then place the pork chops on top.

5. Combine the wine, stock, mustard and capers in a small bowl then pour over the chops. Sprinkle over the parmesan and season. Place back into the oven for 20 minutes or until the parmesan is golden and the pork is cooked through.
Share this: