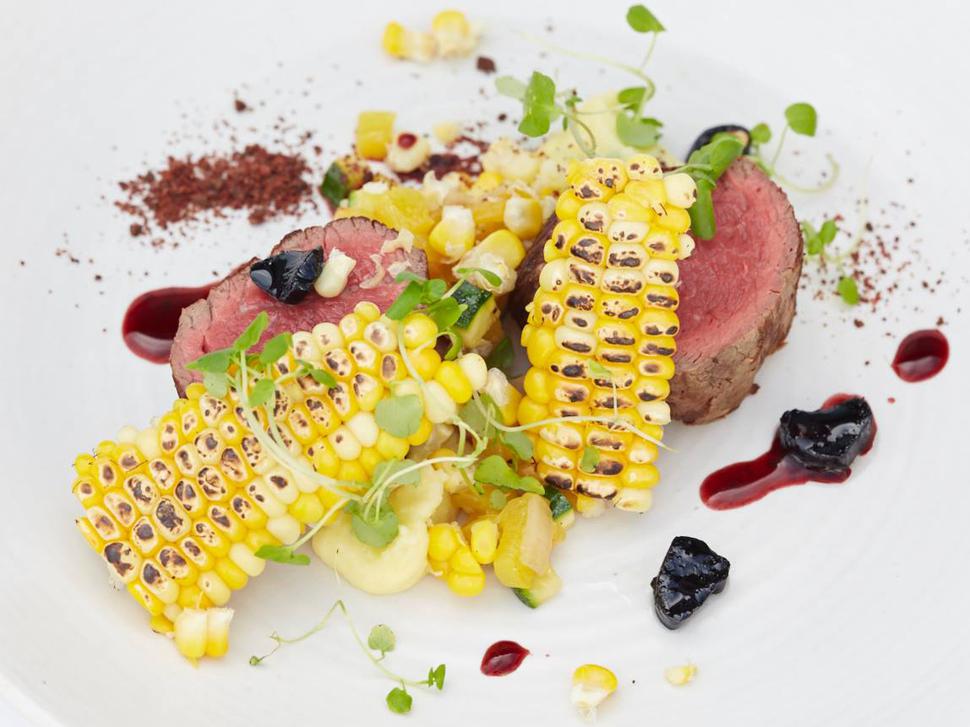 Try One Tree Grill's ultimate eye fillet
Try One Tree Grill's delicious recipe
Monday March 2, 2015
Wine-matching might be more commonplace but certain dishes go undeniably well with a great craft brew.
The team at One Tree Grill, the restaurant situated alongside the similarly named landmark, recently teamed with Ian Williams, New Zealand's first Master Brewer and founder of the WilliamsWarn Personal Brewery, to host a craft beer evening matching five courses to five brews.
One of the highlight dishes was chef Eiji Ota's black Angus eye fillet matched with a WilliamsWarn Irish Red Ale - a unique beer with a strong malt focus and toffee, toasty notes.
We share the recipe below. If you prefer, you can barbecue this for a more summery flavour.

BLACK ANGUS EYE FILLET WITH SWEET CORN, HERBED MASH AND BLACK GARLIC, SERVED WITH SPANISH VEGETABLE SALAD
Serves 4
• 4 x 200g beef eye fillets
Herb mash
• 200g Agria potato
• 1 tsp basil
• 1 tsp Italian parsley
• 50ml cream
• 1 Tbsp Dijon mustard
• Salt and pepper to taste
Spanish vegetable salad
• 1 red capsicum
• 2 courgette
• 1 red onion
• 2 cloves garlic
• 1 tsp smoked paprika
• 2 Tbsp pitted olives
• 1 pinch cayenne pepper
• 1 tsp basil
• 1 sweet corn cob
• 1 Tbsp sumac
• 100ml thick beef stock

Herb mash
1. Peel the potatoes, dice into small pieces and place into a pot with salted water, cooking until tender.
2. Drain the water and mash.
3. Chop the herbs finely, adding them into the mash. Make sure the cream is warmed a little first, then add into the mash with the Dijon, salt and pepper.

Spanish vegetable salad
1. Roast the capsicum in an oven for 10 minutes at 200C. Leave it to cool for 10 minutes then peel the skin and dice into 1cm cubes. Set aside.
2. Slice the courgettes into 1cm pieces and cook in a frying pan or grill pan until tender.
3. Peel onion and dice into 1cm pieces. Slice garlic and cook in a pan with the paprika.
4. In a large bowl place the capsicum, courgette, onion and garlic plus the olives, cayenne and chopped basil. Combine well with seasoning.

Sweet corn
Cook sweet corn in boiling water or simply steam it with its husk on. Once cooked, peel, and then slice off the corn kernels, trying to keep strips of them attached together.

Eye Fillet
1. Season the fillet and sear in a hot pan.
2. To achieve a medium rare finish, place the seared eye fillet in an oven for 6 minutes at 200C then rest for 6 minutes covered with foil.

To serve
Place 2 large Tbsp of herb mash on the plate with a gap in between, and 3 Tbsp of vegetable salad between each spoonful of mash. Cut the fillet in half, and place on the mash. Add sweetcorn, pour over beef stock and dust with sumac.

• One Tree Grill will host Tour De France on April 7 with French wine specialists Maison Vauron. The event will explore French wine region by region with the help of a French sommelier, and will be matched with five courses. Book at onetreegrill.co.nz
Share this:
More Food & Drink / The Latest