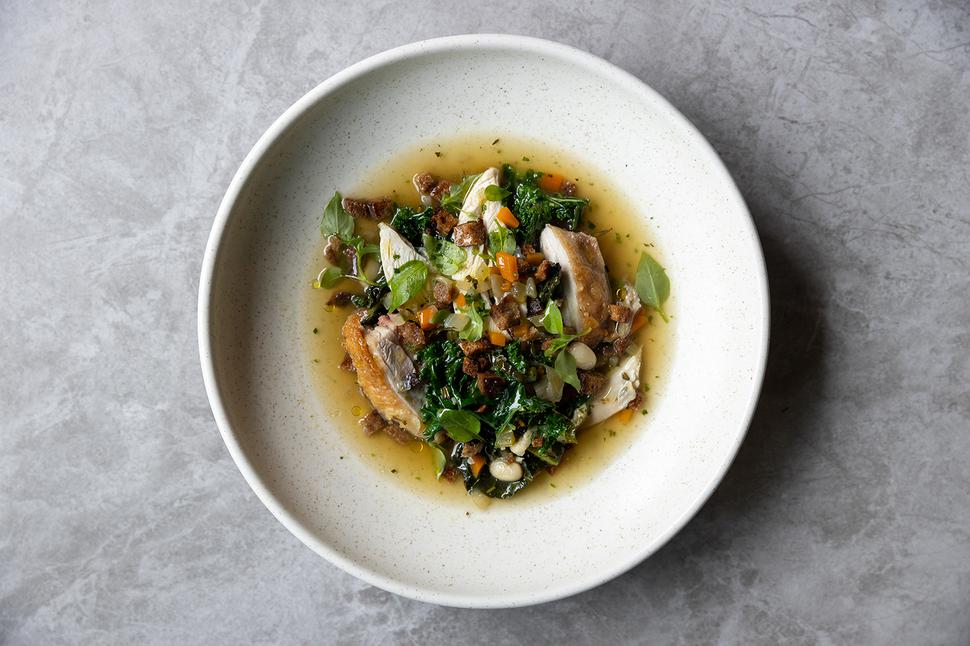 Onslow Head Chef Glen File's Roast Chicken Soup
A hearty, soothing soup for the soul, courtesy of a top chef
Thursday Aug. 26, 2021
ROAST CHICKEN SOUP RECIPE
Serves 4-6
1 x whole free-range chicken
100g celery, medium dice
100g carrot, medium dice
150g onion, medium dice
2 whole garlic cloves, sliced in half
10g fresh thyme
10g rosemary, chopped
15g parsley, chopped (keep the stalks)
150g kale or cavolo nero (or any green leafy vegetable), blanched and refreshed, roughly chopped
100g cooked white beans or tinned
2 litres chicken stock
50g butter
Olive oil
Flaky sea salt
Pepper
Croutons, to garnish
Tip: Keep any vegetable peelings or trim from the carrots and celery and use that as a base to place your chicken on while roasting
1. Preheat oven to 180C.
2. Place your chicken in a bowl, dress with olive oil and season well with salt and pepper. Place on an oven tray or pan, then into the hot oven for around 20 minutes or until it starts to get golden.
3. While the chicken is roasting in the oven, start cooking the vegetables. Melt the butter in a saucepan or pot big enough to hold all the ingredients including the chicken, which will be added later.
4. Add the onion, carrot, celery and sweat out on a medium heat, adding a little olive oil if needed.
5. Season with a pinch of salt and continue to cook until soft, then add the garlic and cook until fragrant. Add the fresh thyme, rosemary and parsley stalks. Stir and gently cook for another 5 minutes, then remove the pot from the heat.
6. Once the chicken has a bit of colour, remove from the oven and place in the pot with the other cooked vegetables and place back on a medium heat, adding the chicken stock to just cover the chicken (add a little water if you need to). Give it a little stir to move the vegetables from the bottom of the pot to prevent them from sticking.
7. Place a lid on top and bring to a gentle simmer. Don't boil hard, you want to gently finish cooking the chicken in the pot (around 20 to 30 minutes).
8. Once the chicken is cooked, remove the pot from the heat and leave to rest for 15 minutes, then carefully remove the chicken from the liquid and place on a tray to cool until you are able to handle it. Gently break the chicken into medium-sized pieces, removing any bones.
9. Place the pot with the vegetables and stock back on the heat and bring back to a simmer. Now add the beans and kale (leafy greens) and warm through.
10. Add the chicken and gently stir (don't break up the chicken too much). Bring to a simmer, then taste and season with salt and pepper to your liking. Finish with the chopped parsley and serve.
11. Garnish with a good amount of croutons and a dash of olive oil and toasted bread.
Share this: