Orange and Cream Scones Recipe with Rhubarb Jam
These scones are the perfect way to go about having guests over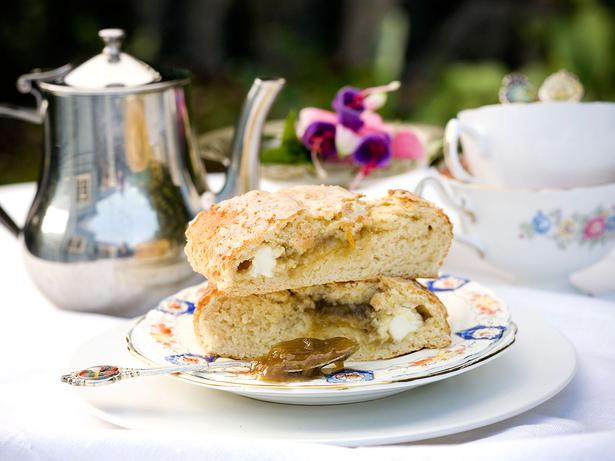 Monday May 16, 2011
ORANGE AND CREAM SCONES WITH RHUBARB JAM
Makes 12
Rhubarb jam 
• 100g rhubarb, trimmed 
• ¼ cup water 
• 2 Tbsp fresh lemon juice 
• 100g caster sugar 
• 2 tsp finely grated orange rind
Scones 
• 3 cups self-raising flour 
• ½ tsp salt 
• ½ cup caster sugar, plus extra to sprinkle 
• ½ tsp vanilla extract 
• 70g butter, cubed 
• 1 egg 
• 1 cup whole milk 
• Cream cheese
1. To make the rhubarb jam; simmer the rhubarb, water, lemon, sugar and orange rind until thick and pulpy. This will take about 20 minutes, while stirring, to prevent the rhubarb catching on the bottom of the pot. Leave to cool.
2. Preheat the oven to 220C. Put the flour, salt and sugar into a large mixing bowl.
3. Add the vanilla and butter then rub with fingertips until the mixture resembles breadcrumbs.
4. Whisk the egg and milk, add enough to the scone dough to make a soft dough, while reserving a little to glaze the scones. Press the dough gently on to a floured surface.
5. Cut into rounds, brush with the leftover eggwash and sprinkle with sugar. Place on to a baking tray and bake for 15 minutes or until golden. Slice in half and spread with cream cheese and serve with rhubarb jam.
Share this:
More Food & Drink / Recipes