Orange is the new Black: Why you need to try orange wine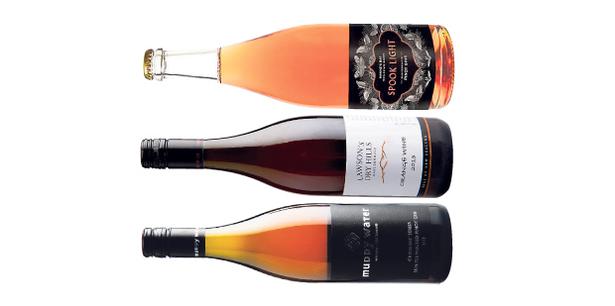 Wednesday Aug. 27, 2014
Forget red, white or rosé, one of the hippest colours in wine this season is orange. You've probably not encountered much, if any, yet, but it's an ancient style that winemakers around the world are reviving, including a small but growing number here in New Zealand.
So what's with this rare colouring? Orange wines are effectively made from white grapes processed like red wines, so unlike most whites they're fermented with their skins, which impart their signature hue. And in contrast to rosés, which are red wines made more like white wines, their skins whipped away after imparting a hint of colour, orange wines spend far longer on their flavour-rich skins.
This gives them the structural grip of a red, combined with the fruits and aromatic characters of a white. It makes for an intriguing and versatile style that's a winner with an amazingly wide variety of foods, from seafood to meats.
Although orange wines are in vogue with overseas sommeliers and sipped in trendy bars from Sydney to San Francisco, they're a style that's been made for thousands of years in Eurasian countries such as Georgia and Armenia. Here, white varieties have been traditionally fermented with their skins, stems and all in clay vessels buried underground.
In more recent times, Northern Italy became the centre of the rebirth of the style, which traditionally made copper-tinged "ramato" style skin-contact whites. It was a tawny beauty from here that proved to be my personal orange epiphany: Dario Princic's Jakot - made from Friuli's white tocai friulano variety - which awed me with its intense apricot fruit and amazing spicy and floral aromatics.
Orange wines have yet to become trendy on our shores, with imports rare. However, following the lead of Mike Weersing at Pyramid Valley, who produced New Zealand's first orange wine in 2010, a number of other winemakers have released their own versions this year.
"I've become more aware of skin-fermented whites lately as I see them a lot in Europe and the US, so thought we'd try it," says Gabrielle Simmers of Millar Road of her decision to, make the label's first orange wine released next week. "From my time working in Northern Italy I had been aware of the ramato style of pinot grigio and think the style of vinification suits the variety as it is often more about texture."
"I wanted to explore whether making a 'white' wine this way would express more of the terroir than the standard method of using only the juice," explains Muddy Water's Dom Maxwell of his amber inclinations. "Despite the long time on skins I feel the wine is harmonious and along with its structure, we're happy with the savoury elements we often associate with skins in red wine, which we feel are an integral part of this wine's charm."
Pinot gris, with its naturally copper-toned skin, is the variety driving all the country's orange wines. The more hands-off winemaking techniques used for the style also feed into the increasing move in the country to make wines more naturally.
"What I enjoyed about producing this wine was how little we did - no additions, no fining, no clarification," admits Marcus Wright of Lawson's Dry Hills, another orange explorer. "I'm happy beyond all my expectations with what we achieved - what I particularly like is that it still smells and tastes like Marlborough pinot gris."
I've certainly been impressed by this first wave of orange wines and think it's an exciting path for our popular gris to take into interesting territory. If you're up for something edgy, I'd suggest you try the following wines.

PEACHY PICKS
Pyramid Valley's "orange" Kerner Estate Vineyard Marlborough Pinot Blanc/Pinot Gris 2012 (from Great Little Vineyards) was one of my Top 50 wines of the year. Here are the other orange wines available:
Muddy Water Growers' Series Skin Fermented Waipara Pinot Gris 2013 $29.99
Aromatic notes of anise and spice overlay fleshy apricot fruit in a wine with gentle grip and an attractive savoury undercurrent. From greystonewines.co.nz.
Lawson's Dry Hills Orange Wine Marlborough 2013 $35
Don't be put off by the cloudiness of this wine; it's just not had any of the fining and filtration than can strip wines of flavour. It's a fragrant floral example displaying notes of chrysanthemum infusing its palate of white peach and dried apricot fruit that finishes with an appealing bite. From lawsonsdryhills.co.nz
Spook Light Hawke's Bay 2013 $45
This may be the most conventionally fruited wine of the three, but this orange gris still possesses plenty of interest in its full-bodied stonefruit palate laced with hints of herb, pepper and marzipan over savoury undertones and a dry grip to the finish. From dnfinewine.com.
Share this:
More Food & Drink / Wine & Drink