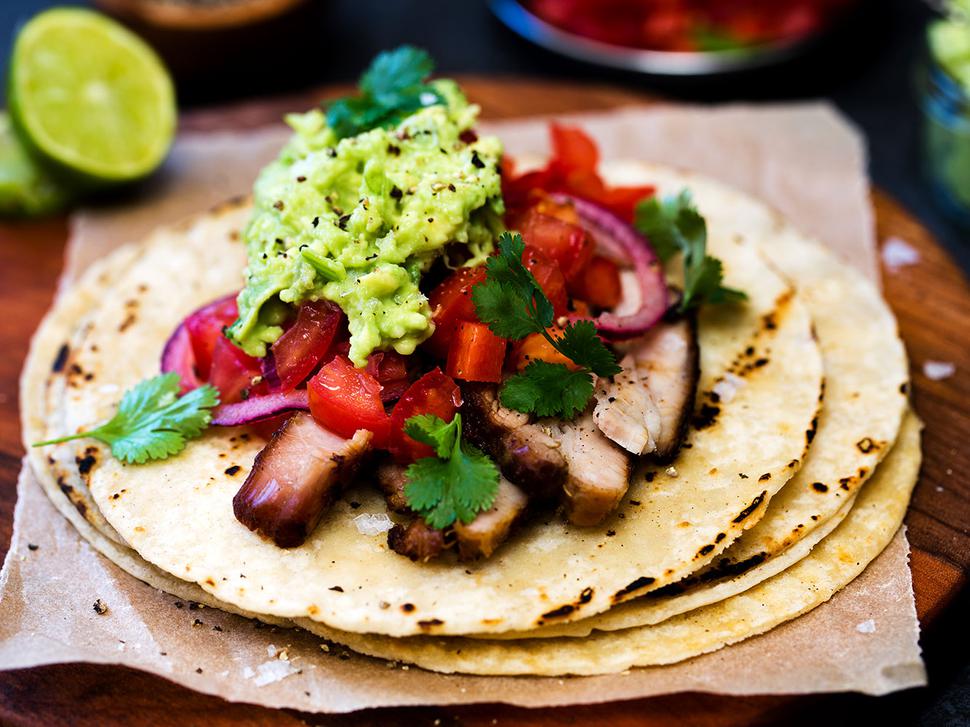 Recipes For a Mexican Fiesta
Get excited in the kitchen with the bold and bright flavours of Mexico
Monday March 12, 2018
Barbecue Pork Belly Tortilla
Keep the barbecue up and running with this succulent pork belly recipe with avocado and lots of chilli.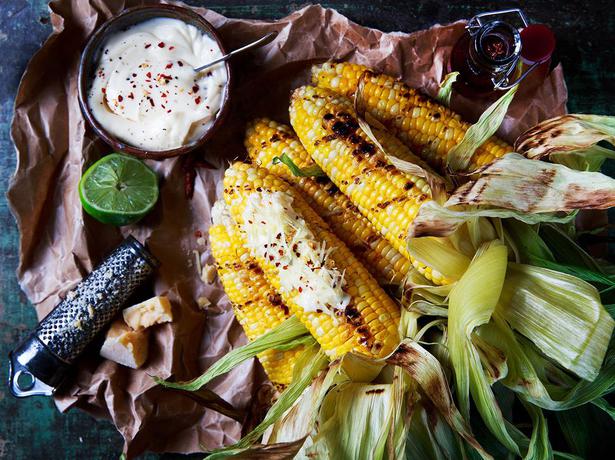 This mexican inspired recipe is an t's an outrageously good way to spice up fresh corn. Picture / Babiche Martens

Mexican Sweet Corn 
Try this delicious Mexican inspired chargrilled corn, smothered in mayo, showered in sharp cheese and dusted with chilli. 

Mexican Omelette
One breakfast option — or indeed any time of day — is this Mexican omelette recipe spiced up with chorizo, chilli flakes and juicy mushrooms. Eat with fresh bread or crusty toast with lashings of salted butter.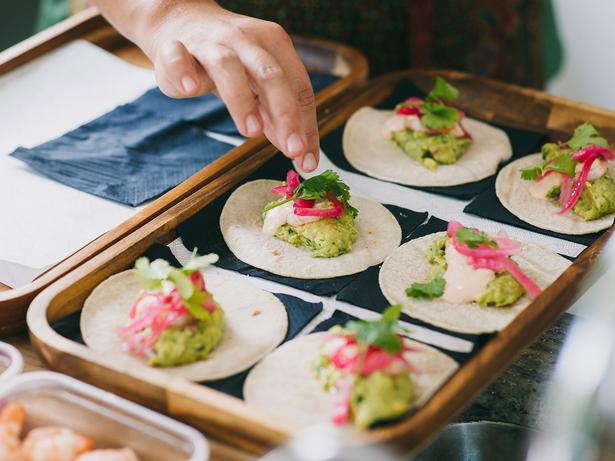 Mini prawn tacos recipe with guacamole, pink pickled onions and chipotle cream. Picture / Supplied.

Mini Prawn Tacos Recipe with Chipotle Cream
Try these mini prawn tacos with irresistible Mexican flavours. 

Black Bean Quesadillas
Is this Tex-Mex heaven? This simple vegetarian meal satisfies with the hefty black beans and melted mixed cheese. Be sure to with a dollop of sour cream.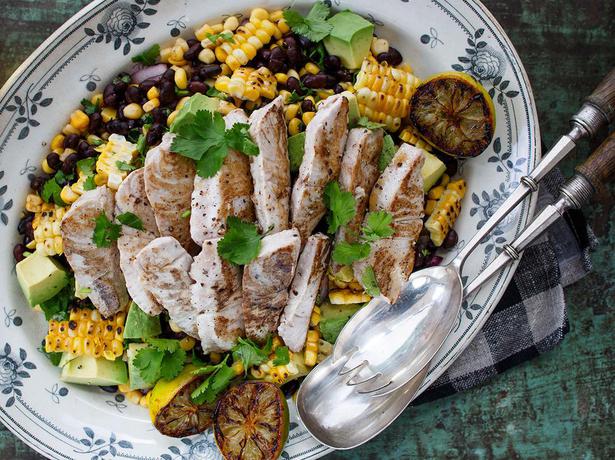 Barbecued Kingfish With Corn, Black Bean and Avocado Salad
This tasty barbecued kingfish has all the feelings of summer and is delicious with the Mexican inspired additions of charred corn, black beans and avocado.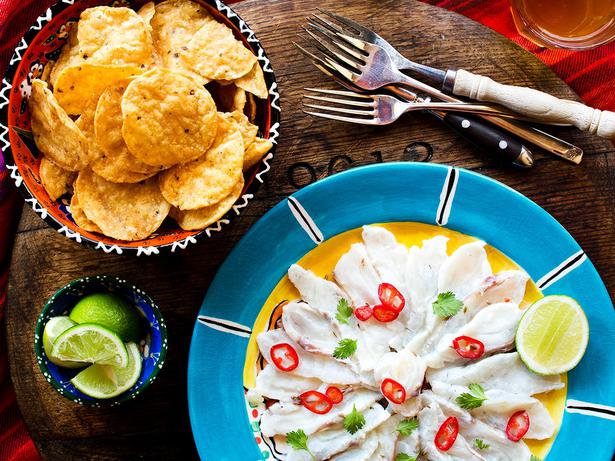 Snapper Ceviche Tostadas
This Mexican-inspired raw fish dish leaves out the coconut cream, more typical of Pacific versions like kokoda (Fijian), which keeps it fresh and zingy. These snacks are great for a party — crunchy, spicy, refreshing and perfect washed down with an ice-cold beer.
Haloumi Tacos with Mango Salsa and Rice 
For a modern and vegetarian take on classic tacos, try this recipe which uses dry-fried halloumi, juicy salsa, pretty pickled red onions. Fill them with brown rice or crunchy shredded lettuce and sauteed peppers.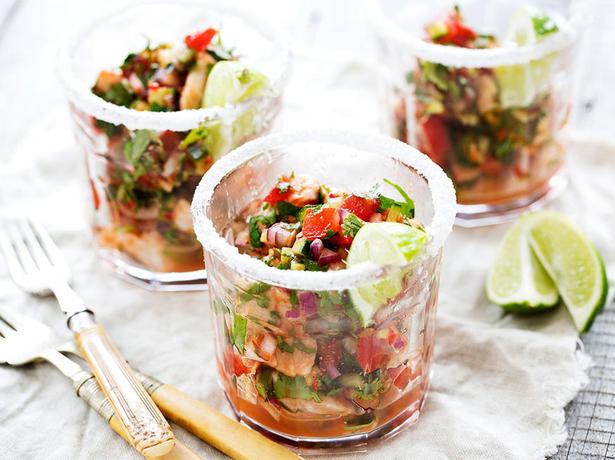 Tomato Ceviche
This tasty ceviche is fresh and quick to prepare and will transport you somewhere sizzling. 
Pork Enchiladas with Chilli Corn
These cheesy pork enchiladas are mouth drooling. Serve with chilli corn for an ultimate Mexican feast.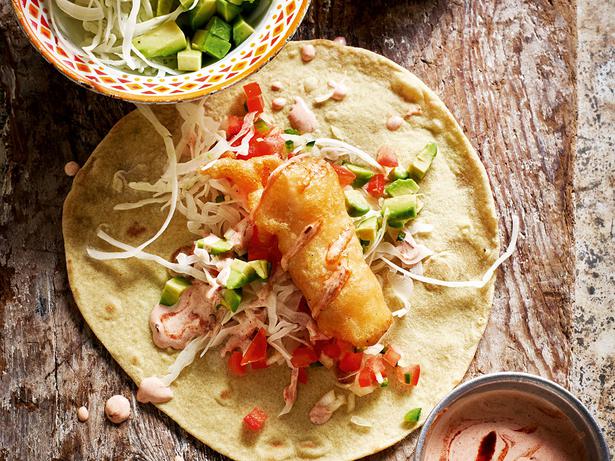 You must try Rick Stein's Mexican inspired fried dish tacos. Picture / James Murphy

Fish Tacos with Chilli and Coriander 
Dive into summer with this recipe from Rick Stein for the ultimate fish tacos, here served with cabbage, chilli sauce, avocado and a chipotle cream. 

Crispy Fried Chicken 
Nothing beats homemade crispy fried chicken which goes with the Mexican party atmosphere. This recipe has added spice for an extra little hit.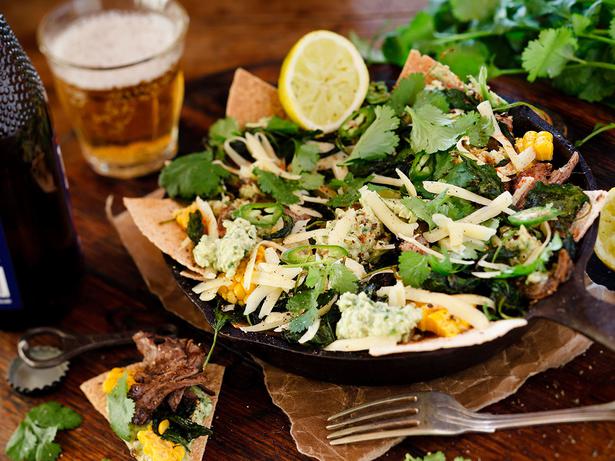 These homemade nacho's are served with slow roasted lamb, avocado, corn and melted cheese. Picture / Babiche Martens

Pulled Lamb Nachos
Make your own tortilla chips with this winning nachos recipe which uses wholesome cashews as its main ingredient. 

Black Bean & Cacao Lava Cookies
These rich and velvety cookies have the most amazingly soft and fudgy texture and are naturally gluten and dairy-free.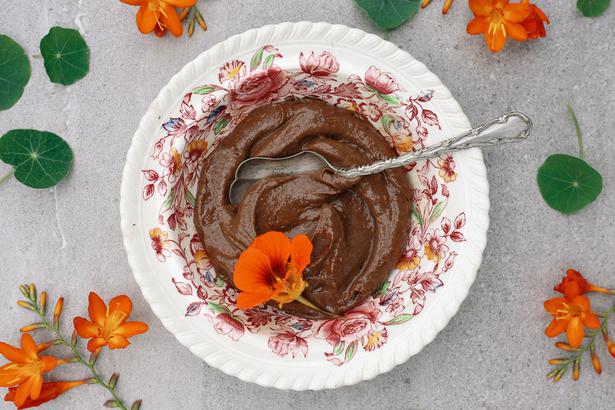 Mexican Chocolate Mousse 
The deep, dark chocolate marries with fruit and with the citrus of orange. Delicate spices are beautiful here: a little cinnamon, nutmeg and chilli add a warming component to this luscious dessert.
Share this:
More Food & Drink / Recipes