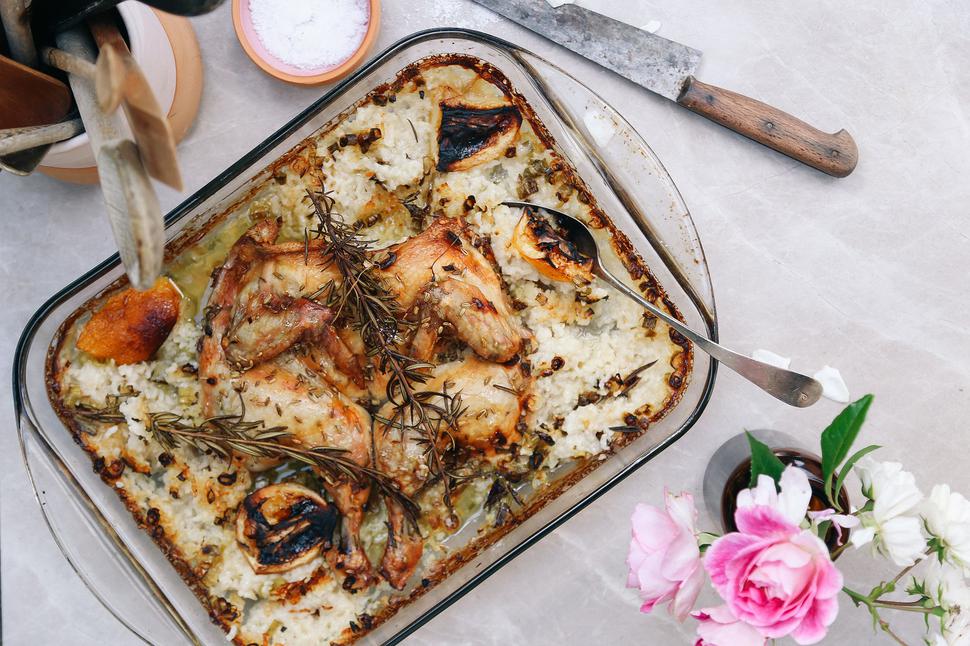 Oven-Baked Chicken Risotto With Spring Onions, Fennel & Rosemary
Let the oven do all the hard work creating this comforting dish
Thursday Dec. 6, 2018
This fuss-free oven-baked risotto recipe requires hardly any attention at all and delivers a dish of tender, creamy rice, topped with crispy chicken that falls beautifully off the bone. You'll also be happy to know that there's no sautéing or stirring involved, simply arrange the flavour-packed ingredients in a large dish, and let the oven do the rest!
OVEN-BAKED CHICKEN RISOTTO WITH SPRING ONIONS, FENNEL & ROSEMARY RECIPE 
Serves 4
1 cup Arborio rice
3 cups chicken stock
1 cup white wine
1 bunch of spring onions, finely sliced
1 butterflied chicken, or 1 kilo of chicken drumsticks
1 lemon, quartered
2-3 sprigs rosemary
2 Tbsp fennel seeds
Extra virgin olive oil for drizzling
1. Pre-heat the oven to 180C.
2. In a large baking dish, add the Arborio rice, chicken stock and white wine, then sprinkle over the spring onions. Arrange the chicken and lemon quarters on top, and then top with the rosemary, fennel seeds and a drizzle of extra virgin olive oil.
3. Bake for 60 minutes, or until almost all the liquid has absorbed, and the rice is tender.
4. Allow to cool for 5 minutes before serving.
Share this:
More Food & Drink / Recipes