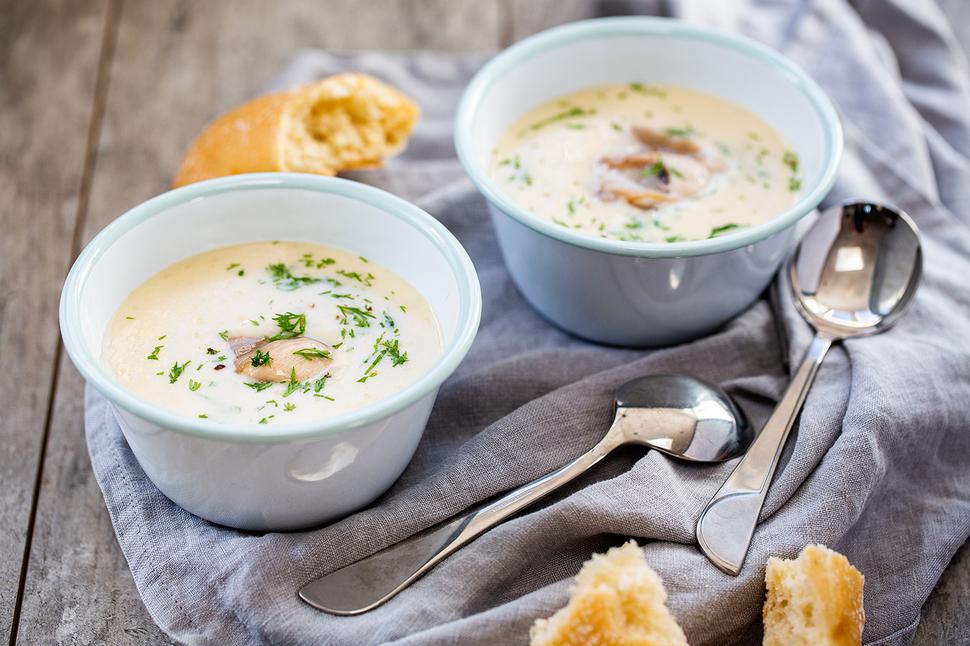 Oyster and Jerusalem Artichoke Soup Recipe
Serve this warming soup recipe as a main or as a pre-dinner meal
Thursday July 9, 2020
It's best to make this soup in a heavy-based casserole dish. If time is short, use a good quality store-bought stock. Try serving the soup warm in shot glasses as a pre-dinner nibble, topped with a fresh oyster and a sprig of dill.
OYSTER AND JERUSALEM ARTICHOKE SOUP
Serves 4
80g butter
1 onion, chopped finely
2 cloves garlic, crushed
1 cup peeled and cubed Jerusalem artichokes
½ cup flour
½ cup white wine
½ cup water
2 cups fish stock
1 cup cream
1 dozen large oysters; reserve the juice
¼ cup chopped dill, reserving a little for garnish
Salt and pepper to taste
Crusty bread to serve
1. Melt the butter slowly in a heavy based pot. Add the onions, garlic and artichokes, cooking slowly for 10 minutes, without browning, until softened. Add the flour and cook for 4 minutes, stirring. Stir through the wine, water, then the stock, bringing it slowly to the boil until the soup has thickened. Cool slightly before blending until silky smooth.
2. Return the soup to a clean pot.
3. Before serving add the oyster juices, cream, dill and half the oysters, slightly chopped, reserving a few whole for the top. Season to taste. Serve with crusty bread on the side to wipe out every last bit.
Share this:
More Food & Drink / Recipes