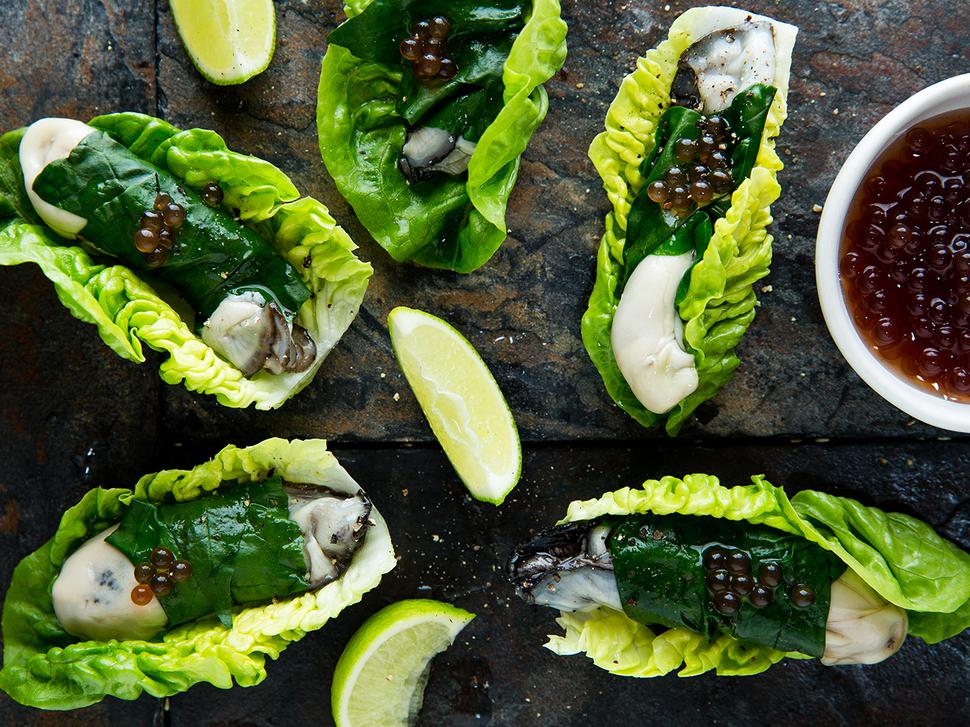 Oysters Wrapped in Spinach Recipe
These spinach-wrapped fresh oysters are a luxurious and oh-so-easy canape that'll be a hit at your next party
Friday Nov. 3, 2017
Bring out oysters at a party and you can guarantee they will disappear within seconds, they're always such a hit. Here, I've wrapped them delicately in a baby spinach leaf, along with a tiny taste of aioli, a squeeze of lime and caviar popped on top. It's divine. These take just 10 minutes to prepare and it's a great way to make a pottle of oysters go a long way.
OYSTERS WRAPPED IN SPINACH
Makes 12
12 baby spinach leaves
2 Tbsp aioli
12 oysters
12 baby cos leaves
2 Tbsp caviar
Limes to squeeze
1. Plunge the spinach leaves into a bowl of boiling water for 20 seconds. Remove and refresh under cold water. Lie them on paper towels to dry a little.
2. Place a little aioli on to each leaf. Then place on an oyster. Wrap carefully and place on to a cos leaf.
3. Just before serving, add a little caviar. Serve fresh and slightly chilled with a squeeze of lime.
Share this: