Where to Eat: Homestead, Hillsborough
The duo behind Grafton eatery Ceremony are reinvigorating the cafe at Pah Homestead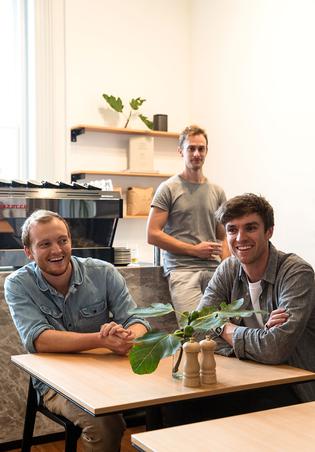 If you are yet to visit Pah Homestead in Hillsborough, plan a visit right now. Not only does the 1870's heritage property house the James Wallace Arts Trust collection, the largest privately held collection of contemporary NZ art, but it is now home to new daytime eatery Homestead. Opening today, the former Pah Cafe is under new management, renovated and set to reinvigorate the charming spot.
Charles Williams and Connor Nestor, who opened their first cafe Ceremony in Grafton less than a year ago, have joined forces with food writer Sam Mannering to open the modern cafe which will complement the art decorating the walls.
A member of the James Wallace Arts Trust since 2014, Sam will be in charge of the menu which includes brunch, lunch and desserts - think bruschetta and homemade crumpets with fresh and seasonal toppings, Flight Coffee and a New Zealand wine list. The cabinet food will be inspired by Sam's grandmother's baking; such as gingerbread, nectarine and lemon cake and chocolate and oat slice.
A regular at Ceremony, Sam explains he was a fan of what Connor and Charles have done with the Grafton spot. "I like their approach, their ethos and aesthetic — and also their sense of community."
The trio plan to host dining and music events, and hope to introduce new faces to the building. "Many people don't know about The Pah and it's a bloody tragedy," says Sam. "It's a hidden gem and most people haven't been."
• Homestead, 72 Hillsborough Rd, Hillsborough. Tuesday-Friday, 8am-3pm, Saturday-Sunday, 8am-5pm.
Share this:
More Food & Drink / Favourite Cafes