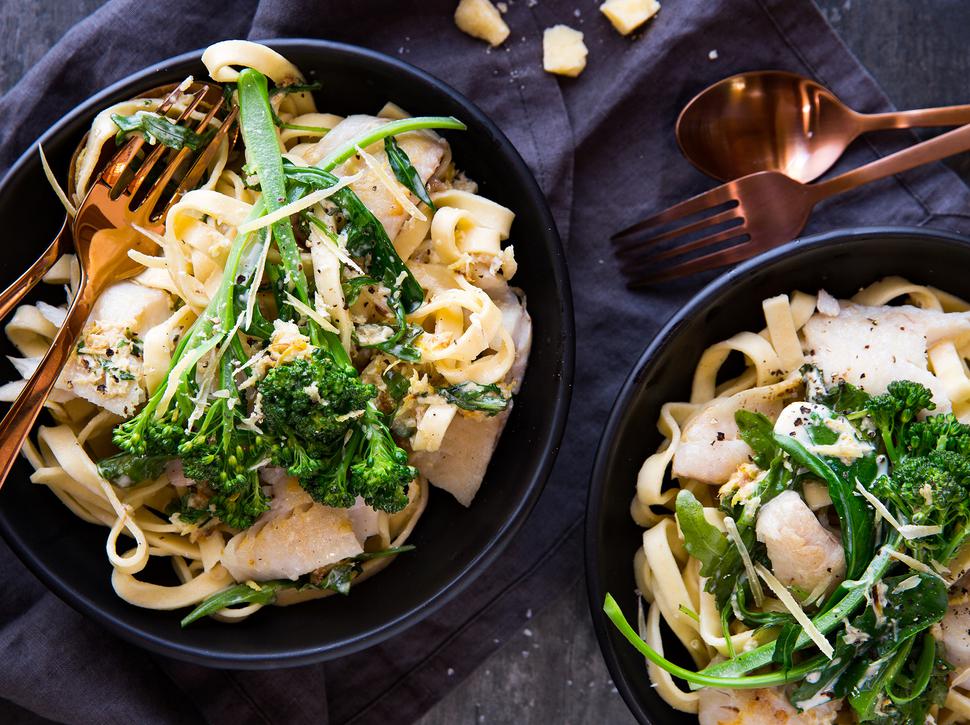 Pan-Fried Fish With Fettuccini
Avoid midweek stress with this easy, delicious and healthy family favourite
Friday April 13, 2018
Fresh pasta is always my first choice for this fish dish, but mid-week, dry pasta from the cupboard is just as good. A squeeze of lemon is the perfect finish.
PAN-FRIED FISH WITH FETTUCCINI
Serves 4
2 Tbsp olive oil
2 cloves garlic, sliced
Zest of ½ lemon
1 cup cream
¼ cup white wine
6 stalks broccolini, sliced thinly
2 cups rocket leaves
1 Tbsp butter
500g white fish fillets, cut into pieces
350g fettuccini, cooked
1 cup grated parmesan
Juice of ½ lemon
Salt and freshly ground pepper to taste
Extra parmesan to garnish
1. Heat the oil in a large frying pan. Add the garlic and cook for 1 minute. Add the lemon zest, cream and wine and bring to a simmer. Add the broccolini and cook for 3 minutes until just cooked. Fold in the rocket. Season with salt and pepper.
2. Heat the butter in another pan and cook the fish. Set aside.
3. Add the cheese and lemon juice to the sauce.
4. Place the hot fettuccini into bowls. Place on the fish and spoon over the sauce and vegetables. Garnish with a little parmesan.
Share this:
More Food & Drink / Recipes