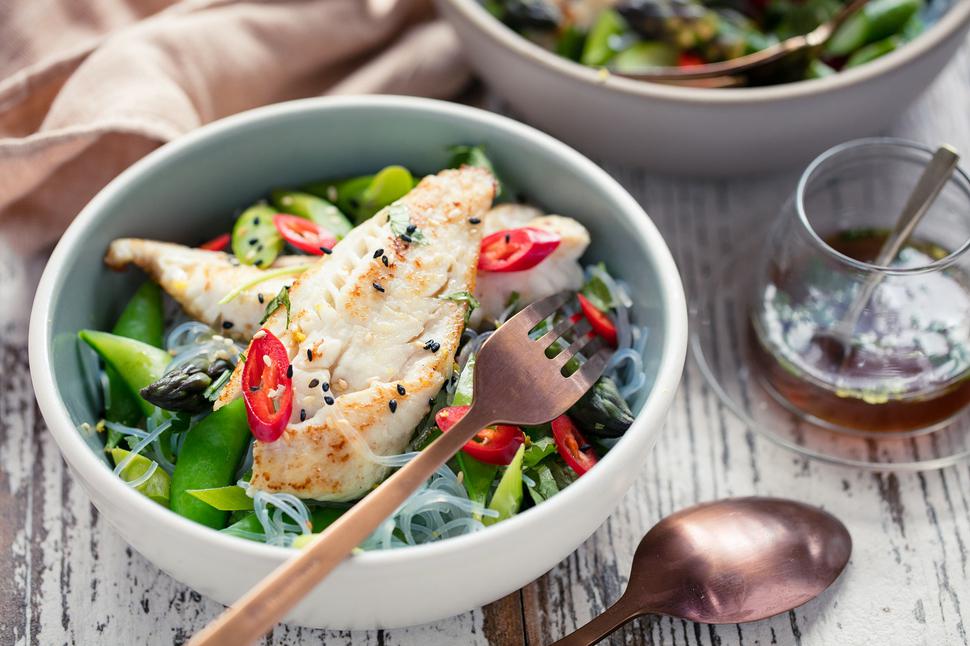 Pan-Fried Fish With Noodle Salad & Chilli Lime Dressing
Fresh, crunchy and flavourful, this is the perfect feel-good meal
Friday Nov. 23, 2018
Pan-fried fish served alongside a refreshing spring green noodle salad will leave you feeling invigorated and healthy. Drizzle with this delicious dressing. The options are endless when deciding what greens to use in this recipe. 
PAN-FRIED FISH WITH NOODLE SALAD & CHILLI LIME DRESSING RECIPE
Serves 2
Dressing
Zest and juice of 1 lime
1 Tbsp soy sauce
1 Tbsp olive oil
1 tsp sesame oil
1 tsp grated ginger
1/2 tsp brown sugar
1/2 chilli, chopped finely
1 tsp black sesame seeds
Salad
200g vermicelli noodles
1 Tbsp butter
130g white fish (I used gurnard)
1 Tbsp olive oil
1 bunch asparagus
100g snow peas, halved
1. Firstly make the dressing. In a jar combine well the lime, soy, olive oil, sesame oil, ginger, brown sugar, chilli and sesame seeds.
2. Soak the noodles in boiling water for 10 minutes then drain.
3. Heat the butter in a frying pan. Cook the fish for 3 or 4 minutes each side until just cooked through. Set aside.
4. Heat the oil and pan-fry the asparagus until cooked through. Add the snow peas for the last couple of minutes.
5. Serve the noodles in bowls, top with greens and drizzle over the dressing.
Share this:
More Food & Drink / Recipes