Paneer and Spinach Stuffed Roti Recipe
For a hearty meal try this tasty stuffed roti recipe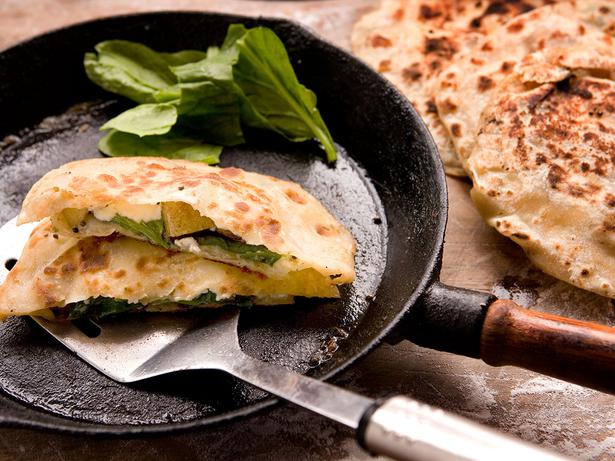 Wednesday May 21, 2008
PANEER AND SPINACH STUFFED ROTI
Makes 10
2 Potatoes, diced
1 Tbsp Vegetable oil
1 tsp Cumin seeds
1 tsp Garam masala
1 Onions, diced
1 to taste Salt
1 bunch Spinach
1 cup Wholemeal flour
250g Paneer
1 Water, boiling
1½ cups Plain flour
3 Tbsp Butter, softened
1. Cook the potatoes in salted boiling water until soft, then drain.
2. Heat a frying pan, add the oil then the seeds, garam masala and onion. Cook until soft. Season, add the spinach leaves and cook until wilted then mix with the potato. Crumble in paneer.
3. Mix the flours in a large bowl. Make a well in the centre and slowly pour in the boiling water, mixing with a spoon until a dough like consistency is achieved. Add 3 knobs of butter to the flour and put some extra on your fist, then knead the dough until soft.
4. Heat a heavy-based pan. Break off small pieces of palm-sized dough and roll out thinly. Place a spoonful of filling in the centre, brush the edges with a little cold water then top with another piece of dough and seal.
5. Lay each roti in the pan and cook until blisters appear underneath then turn over and cook the other side until golden. Stack on a tea towel, brushing a small amount of butter between each.
Share this:
More Food & Drink / Recipes