Panko Crumbed Seafood Recipe
Try this luxurious recipe for crumbed fillets of fish, prawns and salmon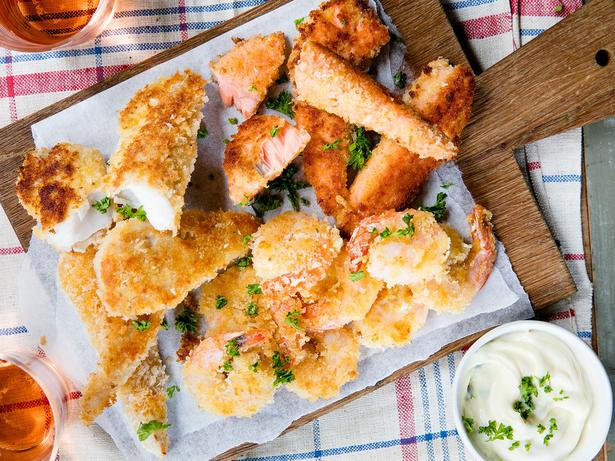 Friday Oct. 28, 2016
Serve crumbed fillets of fish with prawns and salmon for colour. It's rather luxurious, but anything crumbed, fried and served hot is always a hit. A little spice of wasabi in the sauce here adds a nice surprise and a good squeeze of lemon never goes amiss.
PANKO CRUMBED SEAFOOD AND DIPPING SAUCE
Serves 8
400g white fish, cut into fingers
400g salmon fillet, cut into fingers
12 large prawns
¼ cup flour for dusting
2 eggs, whisked and seasoned
2 cups panko crumbs
½ cup aioli
1 tsp wasabi
Flavourless oil for cooking
Chopped coriander to garnish
1. Place the seafood on a tray and sprinkle over the flour. Toss to cover evenly.
2. Dip each piece of fish and the prawns into egg and then breadcrumbs. Lay them separately on a tray. Place a piece of baking paper between layers. Refrigerate until ready to cook.
3. Combine the aioli and wasabi in a small bowl.
4. To cook the seafood, heat a little oil in a frying pan. Cook in batches for 2-3 minutes each side or until cooked through.
5. Serve hot with dipping sauce and a sprinkle of coriander.
Share this:
More Food & Drink / Recipes