Panzanella Salad Recipe
Made with the freshest ingredients, this salad board will get you on the right track for summer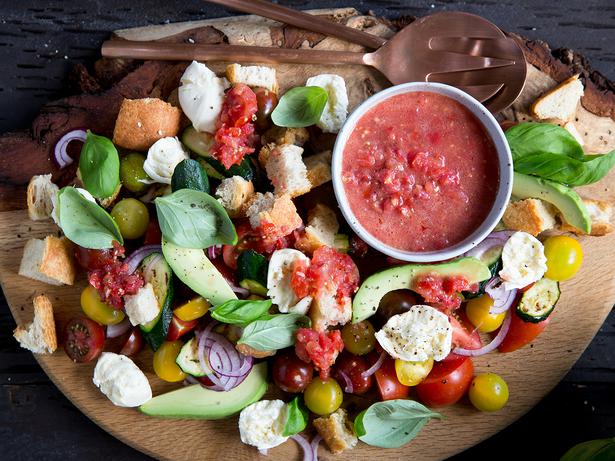 Friday Oct. 13, 2017
One of my favourite salads at this time of the year is panzanella. Luckily, I had a delightful mix of beautiful and tasty tomatoes left over from a photo shoot recently so thought, what better use? A few mouthfuls of this and you will be transported to the warmth of a Mediterranean seaside eatery.
PANZANELLA SALAD
Serves 4-6

Dressing
1 cup chopped tomatoes
2 Tbsp olive oil
1 tsp white wine vinegar
1 tsp caster sugar
salt and freshly ground pepper
Salad
4 cups mixed tomatoes, some chopped
1 avocado, peeled and sliced
1/3 french stick ripped into pieces
100g crumbled feta
1 cup basil leaves
¼ red onion, sliced
1. For the dressing, place the tomatoes, oil, vinegar, sugar into a processor and blitz. Season with salt and pepper to taste.
2. For the salad, place the tomatoes, avocado, bread pieces, feta, basil leaves and red onion on a large platter. Gently mix through the tomato dressing.
Share this:
More Food & Drink / Recipes