Pappardelle and Creamy Chicken Livers Recipe
Try Angela Casley's rich and delicious recipe for the main course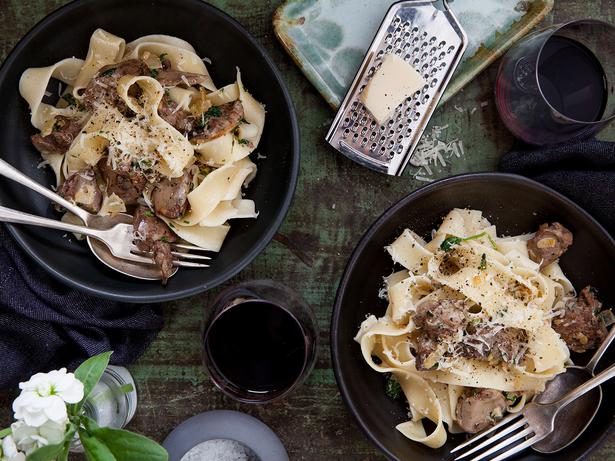 Thursday June 16, 2016
For the main course, serve up rich and delicious chicken livers, complemented perfectly by fresh thyme and a good splash of brandy and cream. Be sure to buy good-quality pappardelle, and don't overcook the livers, a tiny bit of pink inside is just fine.

PAPPARDELLE AND CREAMY CHICKEN LIVERS RECIPE
Serve 2
• 200g pappardelle
• 1 Tbsp butter
• 1 small onion, chopped
• 2 cloves garlic, crushed
• 200g chicken livers, cut into 3cm pieces
• 1 Tbsp fresh thyme leaves
• ¼ cup brandy
• ½ cup cream
• ½ tsp brown sugar
• ½ cup chopped parsley
• ¼ cup shaved parmesan
• Salt and freshly ground pepper
1. Cook the pappardelle in a large pot of salted water as per packet instructions.
2. While the pasta is cooking, make the sauce. Heat the butter in a frying pan. Add the onion and garlic, cooking for 2 minutes. Turn the heat up and add the chicken livers, cooking quickly for 3 or 4 minutes. Stir through the thyme and brandy, cooking for 2 minutes. Add the cream, sugar, parsley, salt and plenty of freshly ground pepper. Bring to a boil for 1 minute.
3. Drain the pasta, fold through the sauce and liver and serve hot with a sprinkle of parmesan.
Share this:
More Food & Drink / Recipes