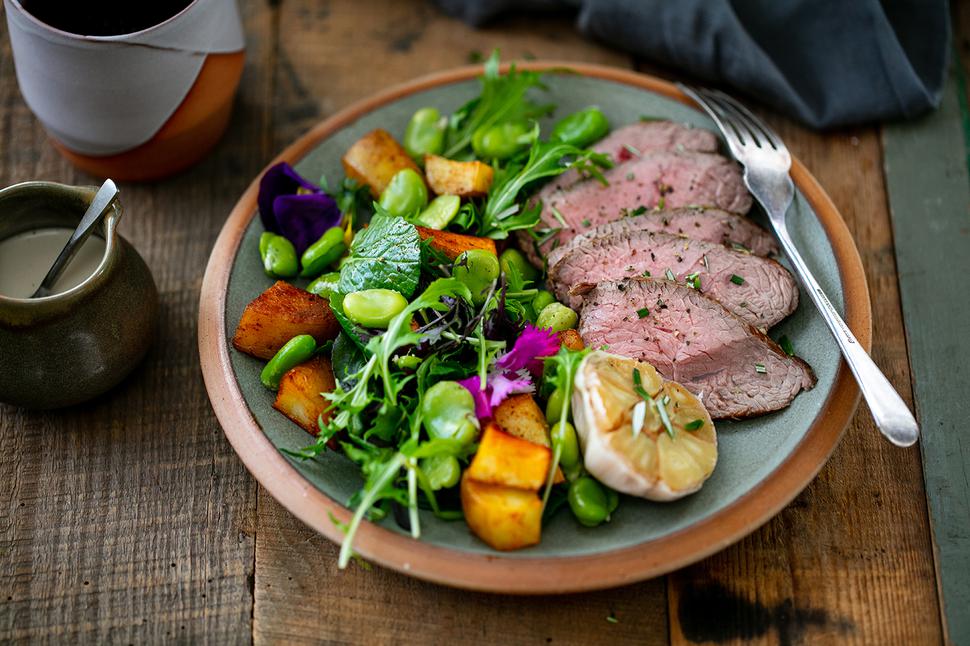 Paprika Potatoes, Lamb & Broad Bean Salad
This salad is a powerhouse meal thanks to bulbs of baked garlic and a rosemary-sprinkled rump
Friday Aug. 20, 2021
A lamb fillet or lamb leg steaks will work equally as well as rump to add flavour to this quick and simple salad. If you are packing up this salad to take with you, place the dressing in a little container to prevent the greens going soggy. That's a sure way to ruin any fresh salad.
PAPRIKA POTATOES, LAMB AND BROAD BEAN SALAD RECIPE
Serves 4
2 cups cubed potatoes
1 whole bulb garlic, cut in half
1 tsp paprika
2 Tbsp olive oil
Salt and freshly ground pepper
300g lamb rump
1 tsp dried herbs
1 Tbsp finely chopped fresh rosemary
1 cup broad beans, cooked and shelled
2 cups salad greens
Dressing
½ cup mayonnaise
1 Tbsp lemon zest
2 Tbsp lemon juice
1. Preheat oven to 180C. Line a baking tray with paper.
2. Place the potatoes on the tray with the halves of garlic. Sprinkle the potatoes with paprika and drizzle with 1 tablespoon oil. Season and place into the oven for 25 minutes or until crisp and golden.
3. Rub the rump of lamb with the remaining oil. Heat a frying pan to a high heat and brown the lamb all over. Sprinkle over the dried herbs and rosemary. Place into the oven for 20 minutes or until done to your liking. Remove and let the lamb rest for 10 minutes before slicing.
4. For the dressing combine the mayonnaise, zest and juice. Into a large bowl place the potatoes, broad beans, greens and squeeze out some of the garlic. Add half the dressing. Serve the salad on plates or into takeaway containers. Add the sliced lamb on the side with a little extra drizzle of dressing.
Share this: