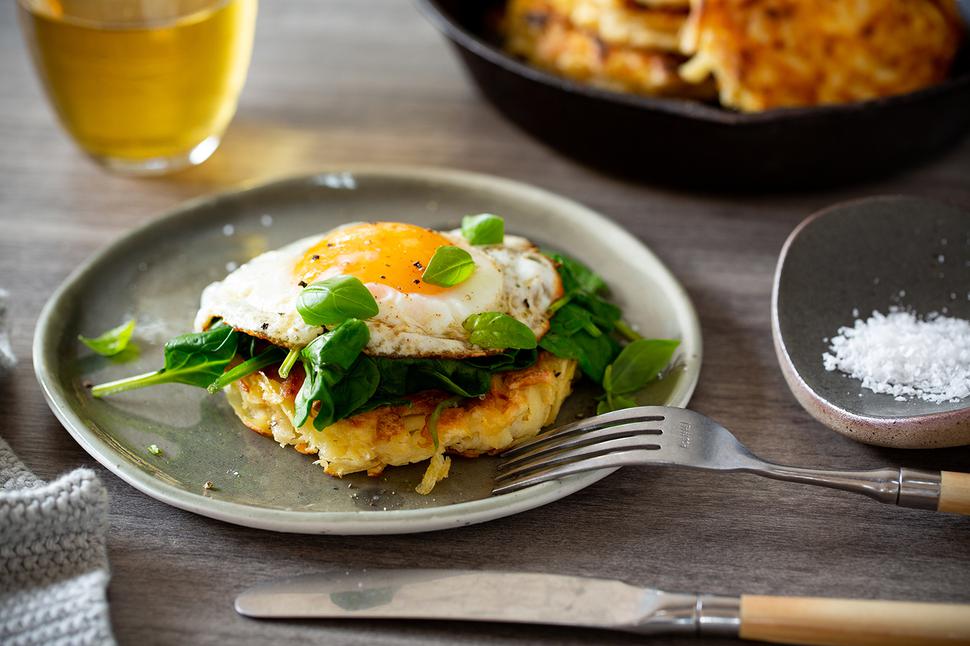 Delightfully Simple Parsnip Rostis
We like to top ours with baby spinach, fried egg and a sprinkling of basil
Saturday July 24, 2021
You will be surprised how the strong flavour of parsnips is subdued by cooking them this way. Rostis are a great way to introduce parsnip to those ready to dismiss the versatile vegetable.
PARSNIP ROSTI RECIPE
Makes 6
3 cups peeled and grated parsnip
1 clove garlic, crushed
2 eggs
1 Tbsp lemon zest
2 Tbsp cornflour
½ tsp ground cumin
½ tsp salt
2 Tbsp olive oil
To Serve
120g baby spinach, wilted
6 fried eggs
Basil leaves
1. Place the grated parsnip, garlic, eggs, zest, cornflour, cumin and salt into a large bowl, combining well.
2. Heat 1 tablespoon oil in a frying pan. Place 3 x half cups of mixture into the pan to form the rostis. You can use a greased 8cm egg ring or go more rustic in your look. Cook for 4 or 5 minutes until golden underneath, then flip for a further 3 or 4 minutes. Do the same for the remaining 3.
3. Serve with wilted spinach and top with a fried egg and basil.
Share this: