Parsnip and Walnut Cake Recipe
Try this cake with an irresistible cream cheese icing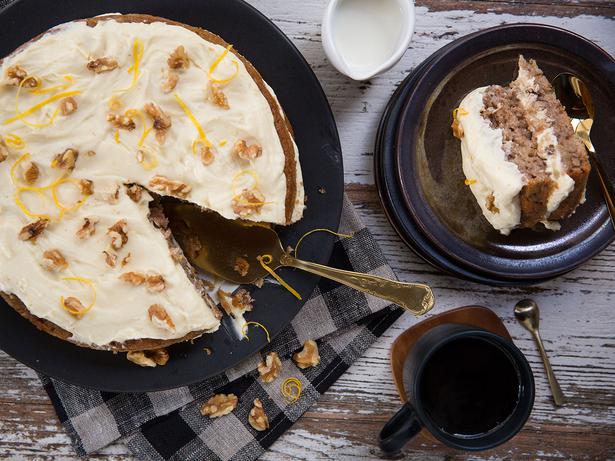 Friday June 16, 2017
This parsnip cake is one of the best you'll ever taste — trust me. It was originally served with a basic lemon icing, but I couldn't resist making a cream cheese icing and topping with some crunchy nuts. It will keep in the fridge for up to a week.
And, if you are feeding parsnip haters, let them try the cake before telling them what's in it. They will be amazed.
PARSNIP AND WALNUT CAKE RECIPE
Serves 8-10
3 cups grated parsnip
70g roughly chopped walnuts
200g caster sugar
2 tsp cinnamon
200g self-rising flour
4 eggs, lightly whisked
2 tsp vanilla
½ cup peanut oil
½ cup sunflower oil
Icing
20g butter, softened
200g cream cheese, room temperature
1 tsp vanilla
2 cups icing sugar
2 tsp lemon zest
¼ cup walnuts to decorate
1. Preheat an oven to 170C. Line a 23cm cake tin with baking paper.
2. Into a large bowl, place the parsnip, walnuts, sugar, cinnamon and flour and stir.
3. Into the whisked eggs, add the vanilla, peanut oil and sunflower oil. Pour into the parsnip combining well. Pour the cake mix into the tin and pop in the oven for 50 minutes or until a skewer comes out clean. Allow to cool in the tin.
4. Split the cake in half.
5. To make the icing, beat the butter, cream cheese and vanilla until smooth. Add the icing sugar and 1 tsp lemon zest, and combine until the icing is smooth and lump-free.
6. Place the base of your cake onto a serving plate. Spread with a third of the icing. Place on the top and cover with the remaining icing. Decorate with walnuts and 1 tsp
lemon zest.
Share this:
More Food & Drink / Recipes