Five Fuss-Free Fail-Safe Cocktails Worth Committing to Memory
You can't go wrong with these classic cocktails
Wednesday Nov. 2, 2016
Martini
50ml gin, 10ml dry vermouth, 10ml olive brine, large green olive
Mix ingredients over ice. Stir well, strain into a cocktail glass and pop in an olive.

Old fashioned
10ml sugar syrup, 6 dashes Angostura bitters, 50ml single malt whisky, lemon
Combine the syrup and bitters over ice in a lowball glass; slowly add whisky then stir to dilute. Garnish with a twist of lemon.
Negroni
25ml Campari, 25ml gin, 25ml vermouth, slice of orange
Fill a tumbler with ice and layer up the spirits in equal measure. Slip in a fresh slice of orange just before serving.
Aperol Spritz
50ml Aperol, 75ml prosecco, 25ml gin, splash of soda water, slice of orange
Fill a large tumbler or wine glass with ice cubes, Aperol, prosecco and gin (in that order). Stir once and finish off with a splash of soda water and a slice of orange.

Sidecar
60ml cognac, 30ml triple sec, 1 tbsp lemon juice, 1 tbsp orange juice, sugar
Mix cognac, triple sec, lemon and orange juice over ice and strain into a sugar-laced martini glass.
READ How to be the ultimate host
Extract reprinted with permission from The Monocle Guide to Drinking and Dining
Gestalten, £40 from monocle.com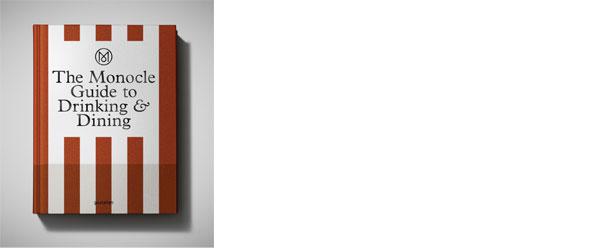 Share this:
More Food & Drink / Wine & Drink