Pastry Caramel Tarts Recipe with Hokey Pokey
Angela Casley's tarts add a decadent touch to dessert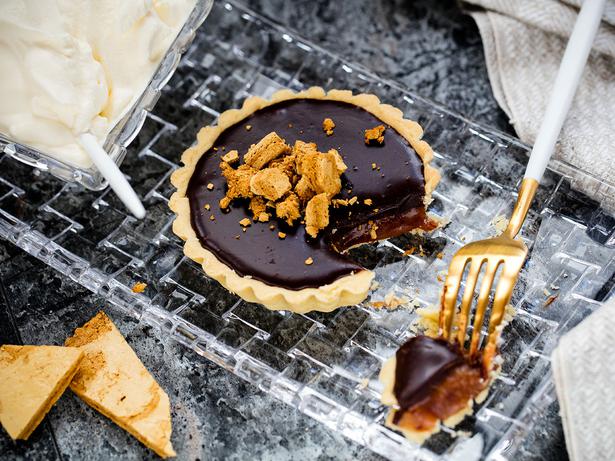 Friday July 8, 2016
The caramel can be made ahead of time and refrigerated until needed — just keep your fingers out! When it comes to spreading on the base, warm the caramel to room temperature. Just before serving, sprinkle the tart with hokey pokey straight to the plate, ready to go. As an alternative try topping with salt flakes or berries. This recipe can also be made into 24 mini tarts if you need a sweet treat for a number of people. However you choose to serve them, they are divine.

PASTRY CARAMEL TARTS RECIPE WITH HOKEY POKEY 
Makes 6
Pastry
1 cup flour
75g butter
¼ cup icing sugar
¼ cup ground almonds
1 egg yolk
½ tsp vanilla essence
Caramel
½ cup water
2 cups sugar
100g butter, cut into small cubes
½ cup sour cream
Chocolate Ganache Topping
½ cup cream
100g chocolate pieces
Hokey Pokey
2 Tbsp golden syrup
100g sugar
1 tsp baking soda
To serve, whipped cream (optional)
1. Preheat an oven to 180C.
2. To make the pastry, place the flour, butter, icing sugar and almonds into a kitchen processor. Blitz until it resembles breadcrumbs. Add the yolk and vanilla, blitz again until your dough is formed. Add a tablespoon of cold water if necessary. Roll the dough on a lightly floured bench and line 6 x 8cm tins. Chill in the fridge for 20 minutes, then bake blind. Cool.
3. To make the caramel, place the water and sugar in a pot. Cook the mixture until you have an amber-coloured syrup — about 10 minutes. Whisk in the butter and sour cream carefully — it may spit at you. Cool then spread evenly into your tart cases.
4. For the ganache, bring the cream to a boil then pour over the chocolate pieces and whisk until smooth. Cool before pouring over the caramel.
5. Put a sheet of baking paper on a baking tray. To make the hokey pokey, place the golden syrup and sugar in a heavy-based saucepan. Very slowly heat, stirring until the sugar has dissolved. Bring to a boil for 2 minutes then add the baking soda. Work quickly stirring then spoon on to your baking paper, spreading until smooth, it will harden within minutes. Break into pieces when cold to serve with the tarts.
Share this:
More Food & Drink / Recipes