Pasture Celebrates Its First Birthday
Ed and Laura Verner, from Pasture in Parnell, share the trials and tribulations of their first year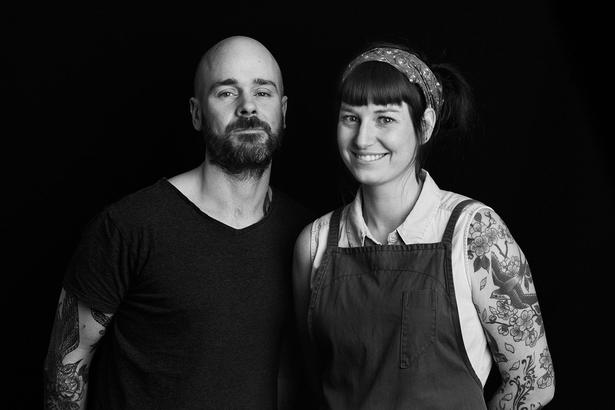 Tuesday Aug. 8, 2017
When Ed and Laura Verner launched Pasture in Parnell a year ago, it took the Auckland restaurant scene by storm, quickly becoming one of the most talked about restaurants in the city. Serving degustation to only 20 diners at a time, Pasture quickly gained a reputation for inventive and game-changing fine dining with a healthy dose of fun. It even garnered a perfect score from Viva's eating out editor Jesse Mulligan, who described it as a "step up and sideways from almost every other kitchen in Auckland", describing the cooking as "innovative but transparent, the flavours challenging but straightforward". Below, Ed and Laura share their experiences from Pasture's first year, and their hopes and dreams for Year 2.
What are some of your highs and lows from the first year of Pasture? 
Highs would be how diners have received us since opening, and how many people have travelled across New Zealand to visit Pasture. We know we are a different style of restaurant offering innovative cuisine and drinks, so to have such support has been encouraging and enriching. It was also a personal highlight for Ed to cook for Peter Gordon, one of the first chefs he followed when he started cooking. Every single time we get a repeat booking, and we have some very loyal diners who come for each menu change, It's is a big high.
Lows would be the stress and risk of a new venture as well as how nothing stops when you are owner-operators. Most guests appreciate and understand what we do, but a handful have not enjoyed our experience. The aim of hospitality is to give everyone a great time, so when people don't leave happy, we feel disappointed but also understand how personal and unique our offering is.
What makes Pasture different to other restaurants in Auckland?
We opened with a unique design for our style of restaurant designed around our passions of cooking over fire, fermentation and bread. We have only 20 seats in an open-plan space so that our guests can see and interact with our concept in a direct way. Chefs serve tables and we have a few seats that are directly overlooking the pass, where chefs plate the dishes. Our menu is designed around traditional techniques such as preservation, fermentation and ageing of meats. We also offer hand-made drinks in our cocktails, non-alcoholic pairings and our very dynamic drinks matches that can include a lot of diversity in what we choose.
Describe a typical guest.
People who love food and trust in experiences. We serve one menu, so we love that our diners trust us to take them on a journey of new flavours and techniques in the dishes and drinks. We're a space for small groups or couples, as it's such an intimate and fun experience. Parnell locals are so supportive and many of them pop by weekly to collect their sourdough and have a chat.
Is Parnell changing, in your opinion?
Yes. Parnell has so much history and is a beautiful suburb. The community here is truly invested in Parnell being great, so we enjoy being part of a community of passionate business-owners and locals. We also live in Parnell and enjoy how we have so many great things within reach, from coffee roasteries to the Domain to the weekend markets.
Where do you eat on your days off?
We try to support as many new openings when possible, of which there seems to be a never-ending list. But we also love eating out at the establishments of our friends and peers, as it's a special way to connect to our industry when we all work such different hours. We also get a lot of support from people in the industry who dine with us on Sundays, when most other places are shut.
WIN: A Six-Course Meal for Two at Pasture
Best restaurant experience here or overseas?
It's so hard to pick one because every place has strengths. What we value the most is when restaurants break away and forge something new, for us Relae in Copenhagen was a ground-breaking meal that we shared.
How hard has it been to work together? Is it possible to wind down when you're not at the restaurant or is it all-encompassing?
We've certainly had to learn to have more boundaries between us at work and us at home. We also have to intentionally create time to leave the city with our dog and reconnect with the best parts of ourselves. It can be all-encompassing if you let it, and we've lost that balance a few times during the last year.
Could you tell us about a couple of dishes you're most proud of?
Well, we serve the one menu so we have to be utterly confident that every dish is part of a journey, as well as being stand-alone delicious. Dishes that our diners have relished the most include our sourdough bread and hand-made, aged butter.
A crayfish dish cooked over the coals, and served on smoked manuka. A house-smoked freshwater eel snack, with a broth made from its bones; and a dessert of cherry leaf icecream served with preserved cherry fruit and cherry wood oil.
Our meat courses are always a labour of time and love, we have been ageing our lamb for up to three months on our current menu and cook the joints entirely over the fire from 1pm.
What's different about your new cocktail menu?
The unusual flavours and techniques, as well as the time and thought that has gone into crafting the small-batch ingredients. We have been developing some ingredients for over a year and have such limited amounts that they are truly special and valuable. We've never had flavours of beeswax or Campari made with native botanicals or our infusions of Buddha's hand. We love how creative we can be.
Have you noticed diners' attitudes to biodynamic wine changing?
Yes. We do our best to share the story of the wine and why we have chosen them in the context of Pasture, rather than focus on the organic/natural/biodynamic distinction. People do care about the way their food is grown and prepared, so it is no different in vineyards. As well as being prepared with minimal intervention and care for the land, the wines we choose are most importantly suited to our food and delicious in their own way. I've found our diners to really enjoy learning about smaller producers and alternative wine-making techniques.
What are your goals for your second year?
To forge our cuisine's identity even more. Our signature is the simplicity and the techniques we use with our fire, koji, fermentation and our non-alcoholic matches. We think our drinks are only getting better and more unique as we grow in our knowledge and experience. We also have increasingly developed our butchery and meat aging processes, investing in a lot of equipment in order to make this possible. We also have plans to develop our fire so that we can use different woods and to deliver different flavours. We also have more breads that we've been developing our recipes for and are really excited to put on the shelves of our small bakery at the entrance to Pasture.
• 235 Parnell Rd, Parnell. Visit Pastureakl.com
Share this: