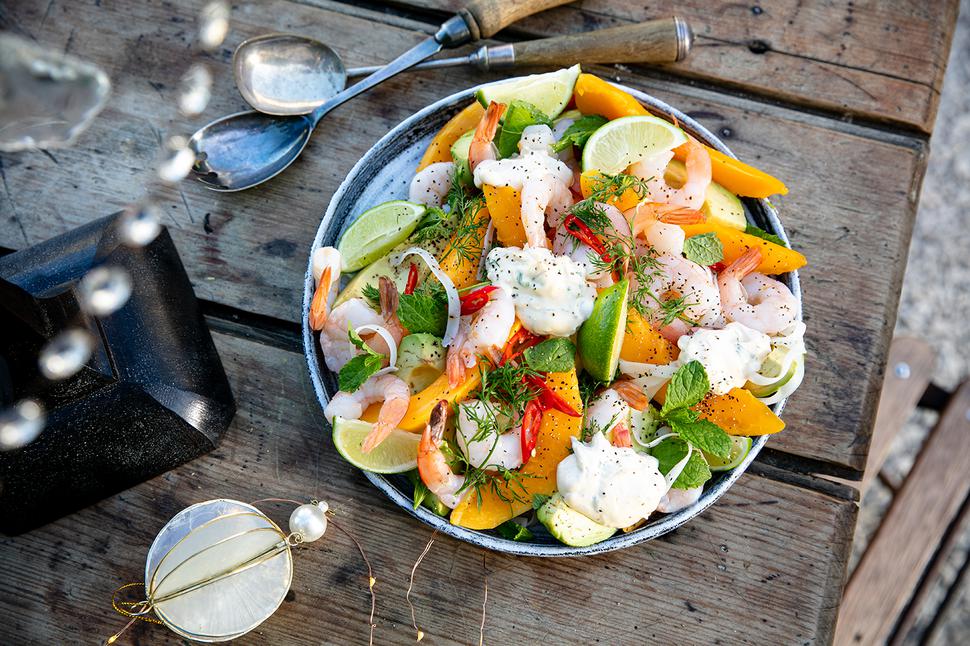 Pawpaw, Prawn & Avocado Salad Recipe
Dress this fresh salad in lime aioli for a citrus kick
Tuesday Dec. 1, 2020
Serve this fresh salad as a starter or part of the main event. The remainder of the aioli will be devoured. This is perfect for non-meat eaters. You could add some crusty bread on the side. 
PAWPAW, PRAWN AND AVOCADO SALAD
Serves 8
Lime Aioli — Makes 1½ cups
3 egg yolks
1 tsp Dijon mustard
1 clove garlic, crushed
1 tsp lime zest
400ml flavourless oil
¼ cup lime juice
Salad
2 cups rice noodles
2 ripe avocados, quartered
400g large prawns, cooked
1 pawpaw peeled, sliced thickly
½ cup mixed herbs — dill, mint, parsley
1 lime, cut in wedges
Salt and pepper
½ cup lime aioli
½ tsp sesame oil
½ tsp fish sauce
1. First make the aioli. Place the yolks, mustard, garlic and zest in a blenderand very slowly drizzle in the oil until you have used it all. Add the lime juice. If it's too thick, add a little hot water, a teaspoon at a time.
2. Place the noodles, avocados, prawns, pawpaw and herbs on a large platter, then squeeze over half the lime, salt and pepper. Combine the aioli with the sesame oil and fish sauce, then dollop on the top.
Share this:
More Food & Drink / Recipes