Pea and Mint Risotto Recipe with Parmesan
Petite Kitchen's Eleanor Ozich creates a warming pea and mint risotto.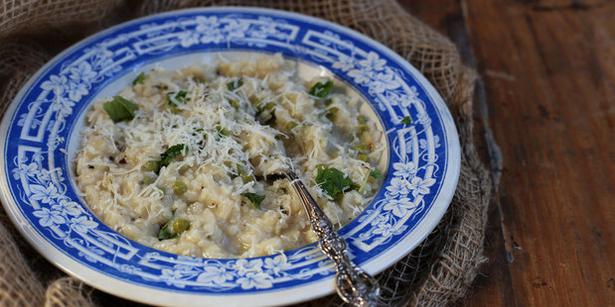 Thursday May 15, 2014
This gorgeous risotto has a wonderful balance of beautiful yet simple flavours. In this basic recipe, I start by slowly browning leeks, white wine and garlic, then add peas, fresh mint from the garden, a good knob of butter and a generous sprinkling of parmesan to finish. This lovely meal is amazingly oozy and creamy, just as a risotto should be.

COMFORTING PEA & MINT RISOTTO WITH PARMESAN
• 2 Tbsp butter, ghee or olive oil
• 1 large leek, halved lengthwise then finely sliced
• 6 cloves garlic, skins removed, roughly chopped
• 500g Arborio or risotto rice
• 2 wine glasses white wine
• 6 cups good quality chicken stock
• 2 cups peas, fresh or frozen
• Large handful fresh mint, roughly chopped
• 2 Tbsp butter
• 100g freshly grated parmesan cheese
• Sea salt
• Ground pepper
1. Heat butter, ghee or olive oil in a large heavy bottomed saucepan over a medium heat. Add leek and garlic, then cook while stirring until softened and slightly browned.
2. Add rice and lightly fry for a couple of minutes while stirring to prevent from burning. Add wine and continue to cook until liquid has absorbed into the rice.
3. Add a ladleful of stock along with peas and turn heat down to low. Simmer gently for a minute or so until rice has fully absorbed the liquid. Continue to add remaining stock one ladleful at a time, stirring to massage the creamy starch out of the rice.
4. Once all stock has been added, taste to see if the rice is cooked. If not, add a little water and continue to cook while stirring until perfectly done. The rice should be soft but with a subtle bite.
5. Season to taste with sea salt and freshly ground pepper.
6. Remove from heat and gently stir in fresh mint, butter and grated parmesan. Place a lid on top and leave to sit for 1-2 minutes before serving.
*Gluten free
*Vegetarian
Share this:
More Food & Drink / Recipes