Peach and Rhubarb Shortcake Recipe
For dessert or afternoon tea try this shortcake full of pistachio and citrus flavours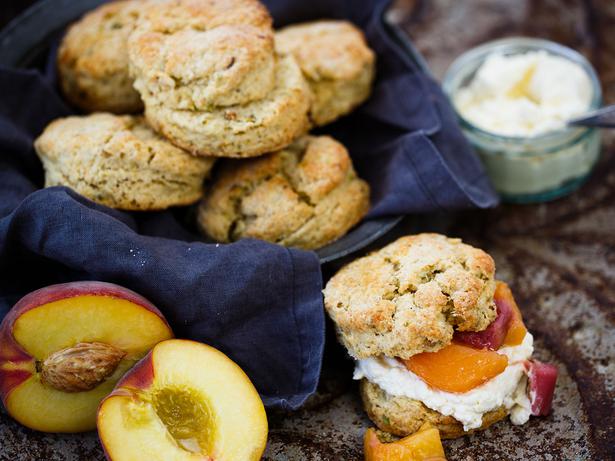 Wednesday Jan. 21, 2015
PEACH AND RHUBARB SHORTCAKE
Makes 8
Shortcake
• 2 cups flour
• 3 tsp baking powder
• ¼ cup dark brown sugar
• Zest of 1 lime
• Zest of ½ orange
• ¼ cup finely chopped pistachios
• 120g butter, chilled cut into cubes
• ½ cup sour cream
• 1 egg
Filling
• 4 peaches, quartered, stone removed
• 2 stalks rhubarb
• 1 cup sugar
• To serve - 200ml cream, lightly whipped, 1 Tbsp sugar
1. Preheat an oven to 200C.
2. Into a large bowl place the flour, baking powder, sugar, lime and orange zest and pistachios. Add the butter. Using your fingers break it down until it forms coarse breadcrumbs.
3. Place the sour cream in a small bowl and beat in the egg. Pour straight into the flour, mixing gently to form a soft dough. On a lightly floured bench flatten the dough to 2cm high. Cut circles 5cm in diameter, and lay on a baking tray.
4. Bake for 20 minutes until cooked and slightly golden. Remove and cool.
5. To make filling: Place 2cm water and the sugar in a pot. Bring to a simmer and dissolve sugar. Add peaches and cook for 5 minutes. Then add rhubarb and cook for another 5 minutes. Remove and cool.
6. Split the shortcake in half. Cover the base with cream and fruit. Place the top on and sprinkle a little extra sugar.
Share this:
More Food & Drink / Recipes