Peanut Butter Balls Recipe
Try this quick and easy pre-made snack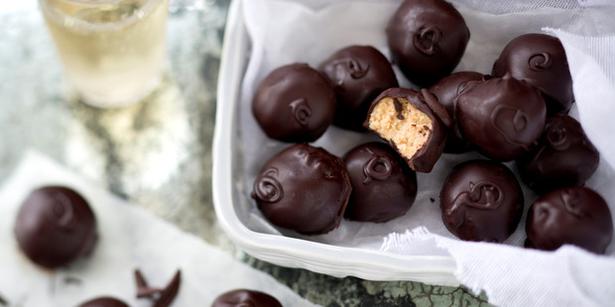 Thursday Feb. 12, 2015
PEANUT BUTTER BALLS
Makes 20
250g raw skinless peanuts
1/3 cup icing sugar
150g dark chocolate
1. Place peanuts in a processor and whizz for 10 to 15 minutes until your peanut butter is creamy. Brush down the sides a few times to ensure it is well mixed. Add the icing sugar and blitz to combine. Remove and cool in the fridge.
2. Roll the peanut mixture into 20 small balls. Place on to baking paper and pop in the freezer for 2 hours.
3. Melt chocolate in a small bowl over simmering water. Remove from the heat and dip the balls in the chocolate using two forks. Return to a clean piece of baking paper. Allow to set, then keep in the fridge until ready to enjoy.
Share this:
More Food & Drink / Recipes