Pear and Blue Cheese Jalousie Recipe
Try this jalousie recipe for sweet and savoury in one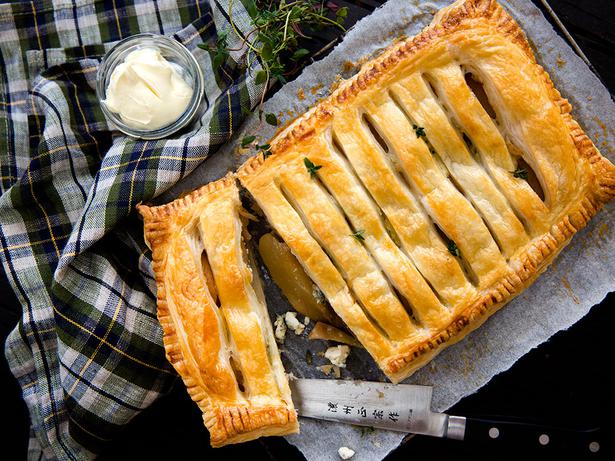 Thursday June 25, 2015
PEAR AND BLUE CHEESE JALOUSIE
Serves 6
1 Tbsp butter
¼ cup brown sugar
3 pears, peeled, cored and sliced
¼ tsp cinnamon
Juice of ½ lemon
400g block puff pastry
150g blue cheese
1 Tbsp thyme leaves
1 egg, whisked for brushing
Creme fraiche, for serving
1. Preheat oven to 200C.
2. In a pan, melt butter. Add sugar, then lay pears on top, sprinkle over cinnamon and lemon juice. Cook gently for 3 or 4 minutes, turning once until just softened. Remove and cool.
3. Roll pastry to a 25 x 40cm rectangle and cut into two even pieces. Place one of the rectangles on a piece of baking paper. Place pears over this piece, leaving a 2cm border. Sprinkle over blue cheese and thyme. Dampen edges with egg and place second piece of pastry on top, pressing down edges to seal.
4. With a sharp knife, cut slits in pastry 1cm apart. Brush top with egg. Place into oven for 25 minutes until pastry is golden and cooked. Remove and serve warm with creme fraiche.
Share this:
More Food & Drink / Desserts