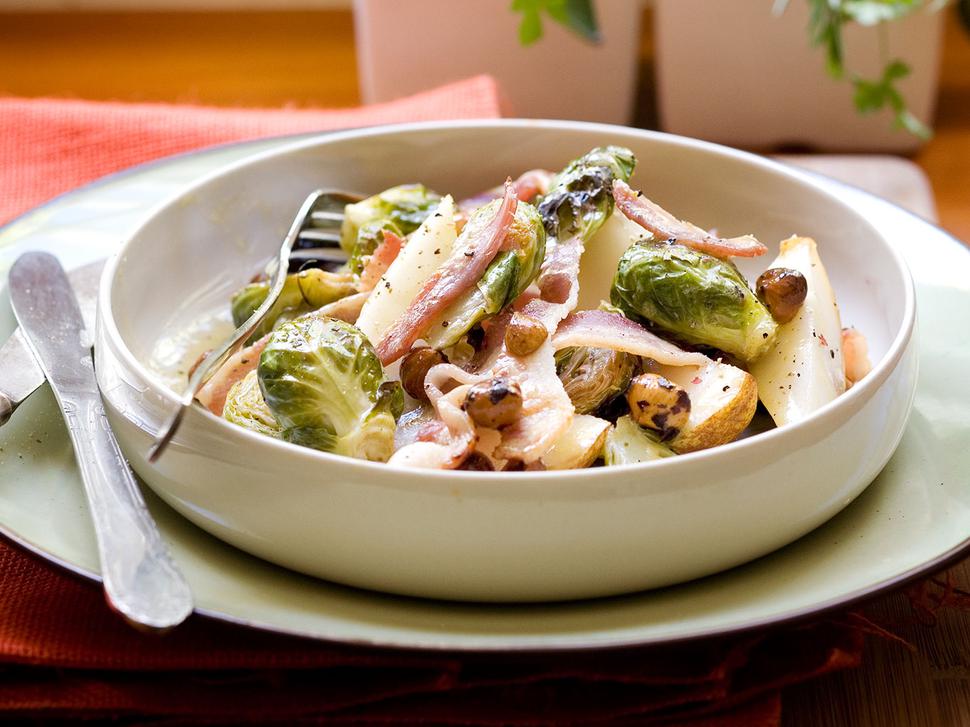 Pear, Bacon, Brussels Sprouts and Hazelnuts Recipe
This is the tastiest recipe you will ever try with brussels sprouts
Tuesday April 12, 2011
PEAR, BACON, BRUSSELS SPROUTS AND HAZELNUTS
Serves 4
• 16 small brussels sprouts 
• 1 Tbsp olive oil - or use 2 tsp 
• hazelnut oil if available 
• 1 clove garlic, thinly sliced 
• salt and black pepper 
• 4 rashers free-range streaky bacon
• 2 pears 
• 3 Tbsp hazelnuts, toasted
Vinaigrette 
• ½ cup olive oil 
• 2 tsp Dijon mustard 
• ½ tsp salt 
• ¼ tsp brown sugar 
• 3 Tbsp cider vinegar
1. Heat a fry pan. Slice the sprouts in half, keeping the smallest whole. Add the oil, season, and cook the sprouts with the garlic and the bacon over a medium-high heat until the bacon is crisp and the sprouts are tender.
2. Slice the pears and arrange the salad ingredients on a platter while making the vinaigrette.
3. Whisk the vinaigrette ingredients together in a bowl, check for seasoning before serving with the salad.
Share this:
More Food & Drink / Recipes