Pear and Goat's Cheese Tart Recipe
Take a big slice out of this delicious tart with a generous dollop of cream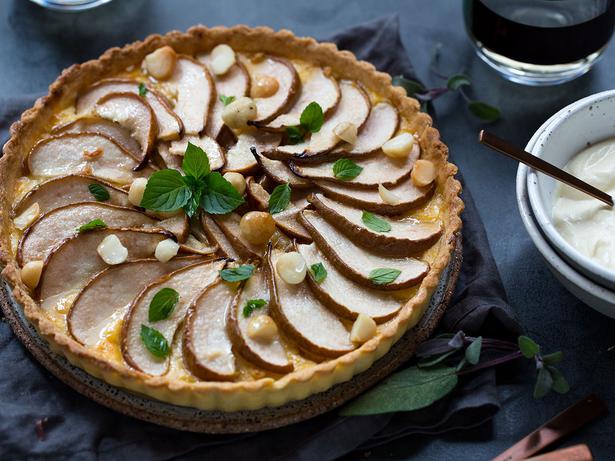 Friday April 28, 2017
This pear tart served with a soft goat's cheese is a mouthwatering dessert. For something a little punchier, a blue cheese would be divine. This tart is not too sweet, so allow yourself a bigger slice with a generous dollop of cream.
PEAR, GOAT'S CHEESE AND MACADAMIA TART RECIPE
Serves 6
Pastry
180g flour
80g butter
¼ cup icing sugar
1 egg yolk
2 Tbsp cold water
Filling
150g goat's cheese
2 Tbsp caster sugar
1 egg
½ cup roughly chopped macadamia nuts
2 pears, sliced thinly
Juice of ½ lemon
2 Tbsp melted butter
2 Tbsp caster sugar
Mint leaves to garnish
1. Preheat an oven to 180C.
2. Into a food processor place the flour, butter and icing sugar. Blitz until it resembles fine breadcrumbs. Add the egg yolk and water, mixing again until your dough is formed. Roll on a lightly floured bench to fit a 23cm tart tin. Bake blind for 20 minutes, removing the paper for the last 5 minutes.
3. To make the filling, mix together the goat's cheese, sugar, egg and half the nuts. Spread over the base of the pastry. Arrange the sliced pears in a circle around outside working your way to the middle. You should have enough pears to do two layers. Squeeze over the lemon.
4. Brush the pears with the melted butter and sprinkle over the sugar. Bake in the oven for 35 minutes until the pear and soft and slightly brown around the edges.
5. Serve warm with mint leaves and lightly whipped cream.
Share this:
More Food & Drink / Recipes