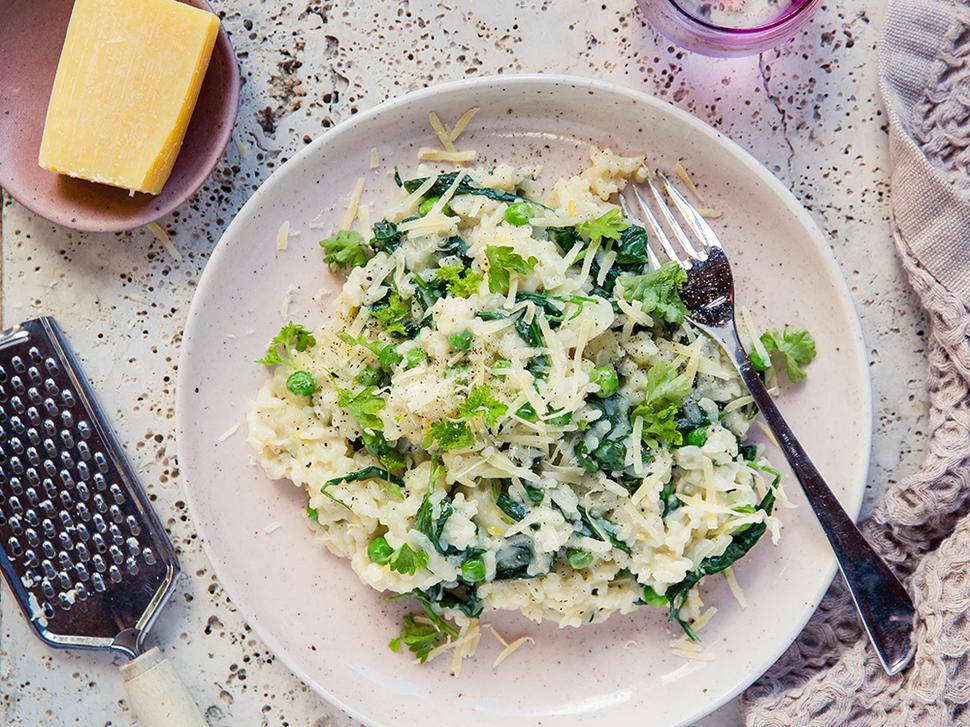 Peas, Kale & Parsley Risotto
For a satisfyingly green risotto, best served with lots of salty grated parmesan
Saturday May 4, 2019
Always keep Arborio rice and stock in the pantry so you can whip up a warming dish like this over the colder months. Peas, kale and parsley provide colourful goodness, complemented by the salty flavour of the grated parmesan.
Peas, Kale & Parsley Risotto
Serves 4
Ingredients
2 Tbsp olive oil
1 onion, chopped finely
2 cloves garlic, crushed
2 tsp paprika
1 ½ cups Arborio rice
1 cup white wine
750ml chicken stock, warmed
1 Tbsp lemon zest
100g kale, shredded
1 cup peas
1 Tbsp butter
½ cup chopped parsley
½ cup parmesan, plus extra to serve
1. In a heavy based pot warm the oil. Add the onion and garlic cooking for a few minutes to soften. Add the paprika and stir through.
2. Add the rice and cook for 2 minutes to lightly toast. Pour in the wine and cook until reduced by half. And the chicken stock in batches letting it absorb before adding the next addition.
3. Stir through the lemon zest, kale, peas, butter, parsley and parmesan stirring until wilted, hot and steaming.
4. Serve with a sprinkle of extra parmesan.
Share this: