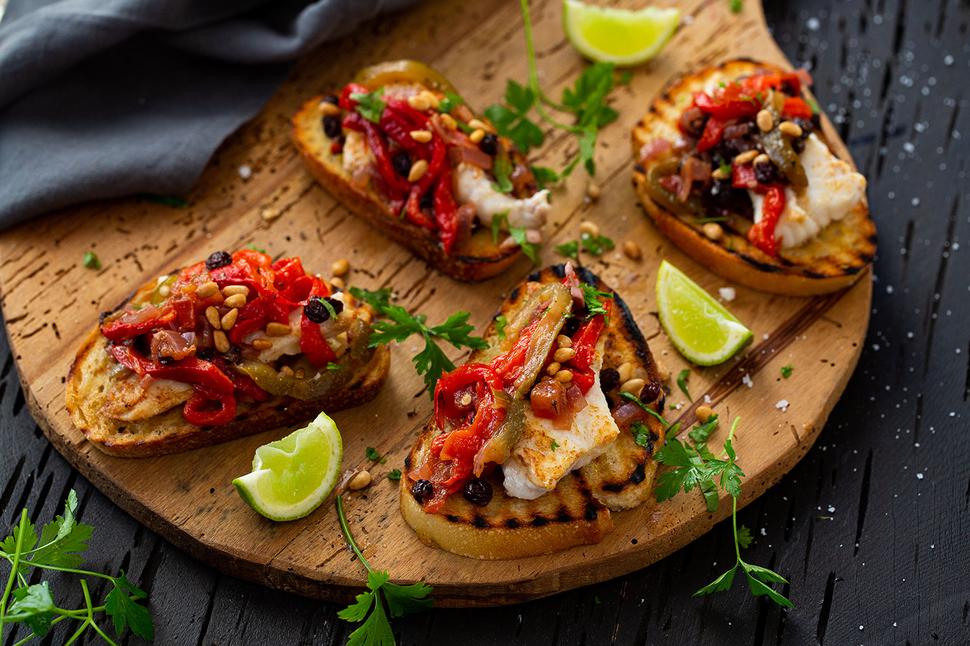 Pepper Caponata & Fish Bruschetta Recipe
This pepper caponata is a delicious addition to your Italian feast, served atop bruschetta
Thursday July 23, 2020
This Sicilian caponata made with capsicum is a cost-effective winter flavour-hit. It will last in the fridge for up to 10 days, getting more delicious over time. Serve alongside a steak or chicken kebabs, or atop bruschetta, as I've done here. It is super-versatile.
PEPPER CARPONATA AND FISH BRUSCHETTA
Makes 1 ½ cups
1 each green and red peppers
¼ cup good quality olive oil
1 red onion, chopped
3 cloves garlic, crushed
2 tomatoes, diced
¼ cup currants
¼ cup red wine
1 tsp lime zest
½ cup chopped Italian parsley
8 slices of rustic bread
4 fish fillets, halved
1. Preheat an oven to 200C. Place the peppers on an oven tray and roast for 20 minutes until blackened. Remove, cool, peel and slice, discarding the seeds.
2. Heat the oil in a medium-sized pot. Add the onion and garlic and cook for 2 minutes to soften. Add the tomatoes, currants, wine and zest and bring to a simmer for 10-15 minutes until the liquid is almost gone and the currants softened. Add the sliced peppers and cook for a further few minutes. Allow to cool.
3. Rub the bread with a little extra oil and toast. Pan fry fish fillets in butter until cooked.
4. To serve, place the fish on the bruschetta and top with caponata.
Share this: