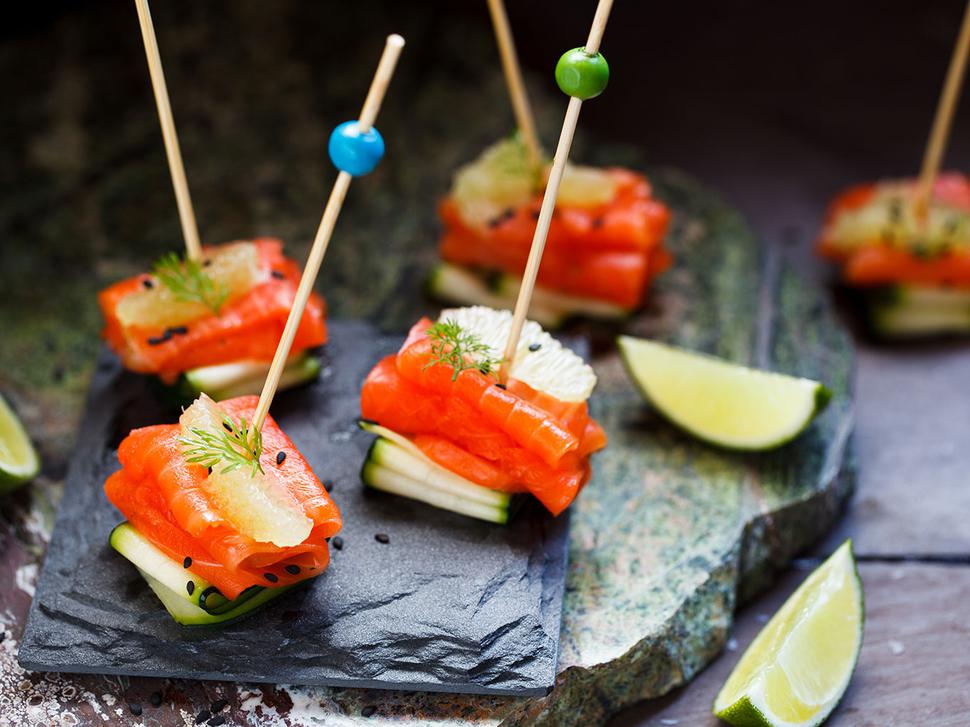 Perfect Party Skewers Recipes
Fuss-free skewers bring an elegant edge to entertaining
Saturday Nov. 7, 2015
The party season is upon us. My diary is filling up rapidly and I know the weeks are going to fly until Christmas.
The key to a good party is to ensure people feel relaxed. While the food and drink are vital to the mix, making people feel comfortable and welcome in your home is the main ingredient. Whether you're serving cocktails and canapes or it is a more relaxed garden affair, the key is not to fuss, be present, and be generous with the drinks.
I like to make sure there are plenty of bottles of Champagne readily available on ice so people can just help themselves. When it comes to food, again, it's about making it fuss-free and easy for people to eat while they chat and mingle. I aim to have as much done in advance as possible so I can enjoy the party, too.
Skewers are a favourite of mine. They look fabulous and bring an air of elegance to any soiree. Plus, they are simple to eat. I'm always on the lookout for interesting sticks and skewers to stockpile for events. The fun part is dressing them with tasty and colourful combinations. You are limited only by your imagination. The thing to keep in mind is what flavours work best together.
These salmon and courgette sticks are a great way to start — fresh, light and simple. A squeeze of lemon or lime depending on what you have (limes being expensive at this time of year) is all that is needed, and a dip into soy for a final touch.
Aubergine, mozzarella and tomato is a winning combination. I like to drizzle with a good quality balsamic to finish. Make plenty of these, as they will be popular.
The third combo is baby potato and chorizo. Delicious and tasty, these are more substantial to help soak up all those celebratory drinks!

Recipes:
• Salmon and Courgette with Lime
• Aubergine, Mozzarella, and Tomato
Share this: