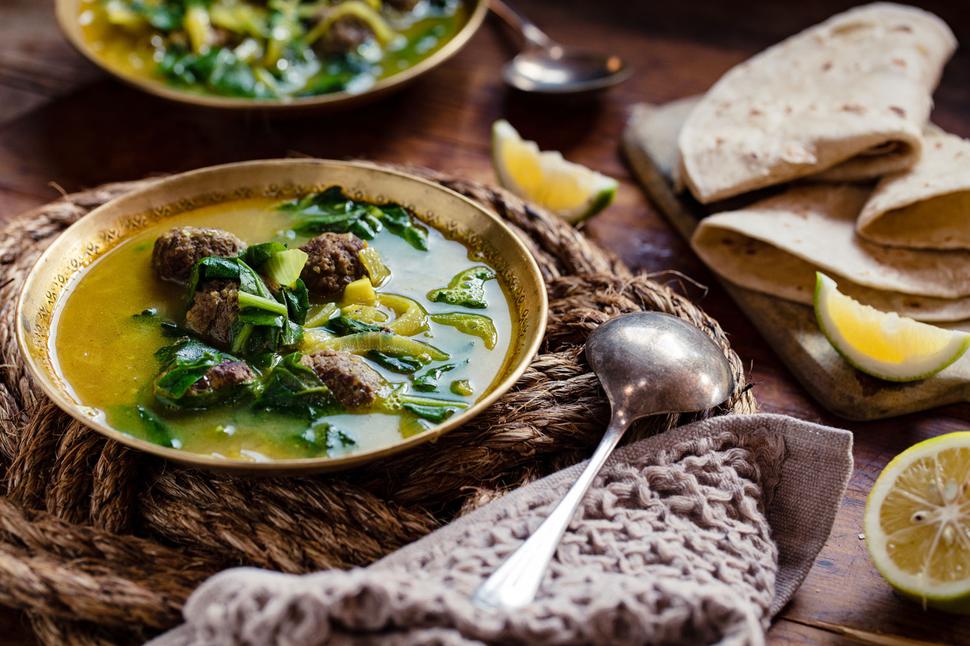 Persian Spinach & Beef Kofta Soup With Warmed Flatbreads
Soups like this are a delicious way to get some extra greens into your diet
Friday July 6, 2018
The key to this Persian soup recipe is a good chicken stock that is flavoursome and punchy. Versatile beef mince adds a good protein hit and turns this from a broth into a meal. Eat with warm flatbread torn into chunks and use to dip and scoop out the kofta.
PERSIAN SPINACH & BEEF KOFTA SOUP RECIPE
Serves 4-6
Kofta balls
400g minced beef
½ tsp cumin
1 tsp dried mint
¼ cup chopped coriander
½ tsp each salt and freshly ground pepper
Soup base
2 Tbsp oil
1 onion, sliced thinly
2 cloves garlic, chopped
1 tsp turmeric
2 tsp curry powder
1 litre chicken stock (preferably homemade)
2 cups shredded spinach
2 Tbsp lemon juice
Serve with warmed flatbreads
1. Firstly make the kofta balls. In a processor (for best results) or large bowl, combine the mince, cumin, mint, coriander, salt and pepper. Roll into walnut-size balls and place in the fridge for 20 minutes.
2. For the soup, warm the oil in a large pot. Add the onion and garlic cooking for 4 or 5 minutes to soften but not brown. Add the turmeric and curry powder, cooking for 2 minutes. Add stock and bring to a simmer.
3. Add the kofta balls and gently cook for 10 minutes, or until cooked through.
4. Just before serving, add the spinach and lemon juice, stirring through to wilt. Check the seasoning.
5. Serve with warm flatbreads.
Share this:
More Food & Drink / Recipes