Persian Stuffed Chicken With Cranberry Sauce
This delicious roast comes stuffed with pistachios, mint and farro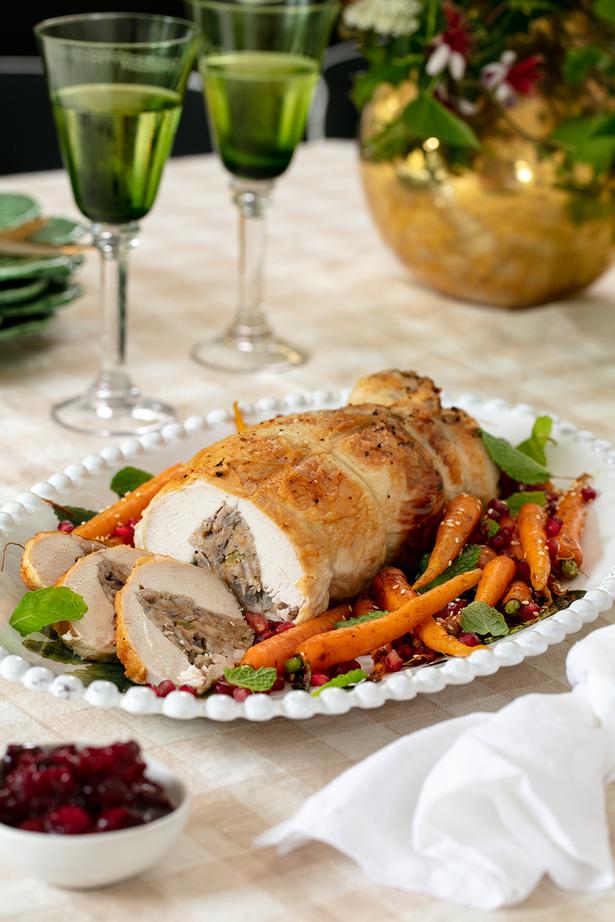 Wednesday Nov. 24, 2021
Ask your friendly neighbourhood butcher to bone a chicken for you. Serve this delicious chicken as part of your Christmas feast or sliced cold to take on a summer picnic.
PERSIAN STUFFED CHICKEN RECIPE
Makes 1
1 organic chicken, boned
Stuffing
20g butter
1 onion, diced
2 cloves garlic, chopped
1 stick celery, chopped
2 tsp grated ginger
½ tsp each cinnamon, cardamom, coriander
1 cup fresh breadcrumbs
½ cup cooked farro (or other grain)
1 egg
½ cup chopped mint
¼ cup chopped pistachios
½ tsp salt and pepper
Persian cranberry sauce
2 cups frozen cranberries
½ cup sugar
½ cup orange juice
Pinch cinnamon and cardamom
1. Preheat an oven to 180C.
2. Heat the butter in a frying pan. Add the onion, garlic, celery and ginger, cooking for 5 minutes to soften. Stir through the spices, cooking for 1 minute. Remove from the heat then add the breadcrumbs, farro, egg, mint, pistachios, salt and pepper, combining well.
3. Spread the chicken flat on a piece of baking paper. Even out the meat if need be, slicing a bit of breast off and moving it to the thigh area so when you carve it will be evenly dispersed. Place the stuffing in the middle and roll the chicken. Tie with string.
4. Season the top with salt and pepper, and rub with olive oil.
5. Place the chicken in an ovenproof dish. Pour around a little water or wine. Bake for 1 hour 15 minutes until golden brown. Remove and let the chicken sit for 10 minutes before slicing.
6. While the chicken bakes make the cranberry sauce. In a small pot place the cranberries, sugar, juice and spices. Bring to a simmer for 10 minutes. Remove and cool.
Share this: