Persimmon Jam Recipe with Lemon Pikelets and Cream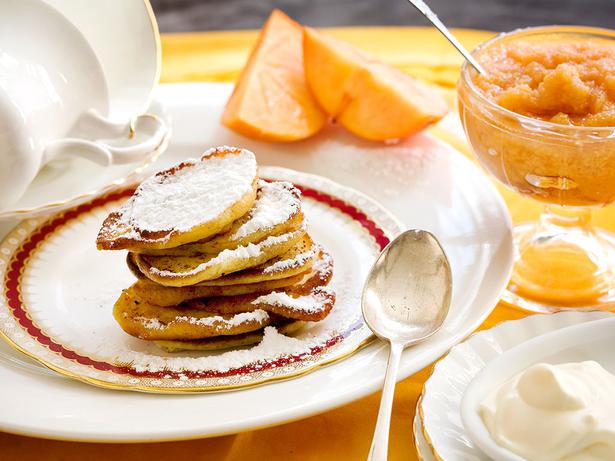 Wednesday June 15, 2011
PERSIMMON JAM WITH LEMON PIKELETS AND CREAM
Serves 4
Jam 
• 3 persimmons 
• 1 cups white sugar 
• 2 tsp vanilla extract 
• 1 Tbs lemon juice 
• 2 tsp finely grated lemon zest
Pikelets 
• 1 cup plain flour 
• 1 tsp baking powder 
• ½ tsp salt 
• 2 tsp finely grated lemon zest 
• 1 egg 
• 1/4 cup caster sugar 
• 3/4 cup milk, approximately 
• Butter
Whipped cream to serve
1. To make the jam; peel and chop the fruit. Combine the fruit with the sugar and vanilla in a saucepan and stir constantly over a high heat until thickened. This will take approximately 30 minutes.
2. Add the lemon juice and zest then spoon into sterilised jars.
3. To make the pikelets; sift the flour, baking powder and salt into a bowl.
4. Stir in the lemon zest. Beat the egg and sugar until thick then add with enough milk to make a smooth batter.
5. Grease a fry pan lightly with butter and when hot, cook the pikelets. When small bubbles appear on the surface, turn over and cook until golden.
6. Serve the pikelets with the persimmon jam and whipped cream.
Share this:
More Food & Drink / Breakfast & Brunch