Persimmon Steamed Pudding Recipe with Coconut Anglaise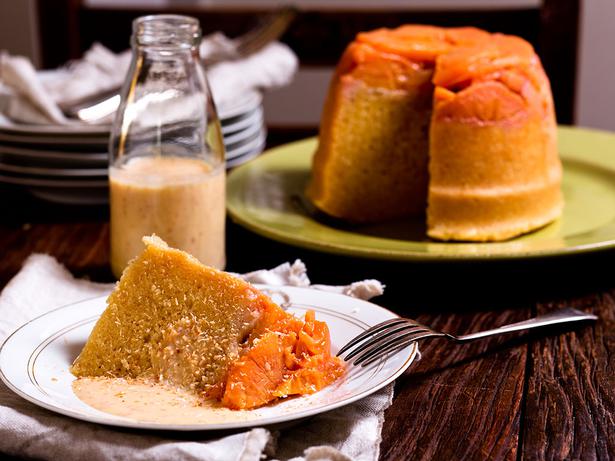 Thursday June 7, 2012
PERSIMMON STEAMED PUDDING WITH COCONUT ANGLAISE
Serves 4
1 Tbsp butter
3 persimmons
1 Tbsp crystallised ginger, finely sliced
Zest and juice of one lemon
150g butter, softened
150g caster sugar
3 eggs
250g self-raising flour
1/4 tsp salt
1/3 cup milk
Coconut anglaise
3 egg yolks
2 Tbsp caster sugar
1 tsp vanilla extract
1 1/4 cup milk
2 Tbsp desiccated coconut, lightly toasted

1. Grease a 1 litre steamed pudding bowl.
2. Heat the butter in a pan. Peel and slice the persimmons. Add to the butter with the ginger, zest and juice. Cook gently until the persimmons have started to soften. Spoon into the bottom of the pudding bowl.
3. Cream the butter and sugar until very pale. Beat the eggs in one at a time.
4. Fold the flour and salt in with the milk then spoon over the persimmons. Cover with baking paper and secure (if the bowl doesn't have a screw-on lid). Steam in a large saucepan with enough water to come two-thirds up the side. Steam for 1½ hours, serve hot with custard.
5. To make the custard; whisk the yolks, sugar and vanilla in a bowl. Boil the milk and whisk into the eggs and sugar then pour into a heavy based saucepan. Stir gently without boiling until mixture starts to thicken. Remove from heat and stir in coconut.
Share this:
More Food & Drink / Desserts