Peter Kuruvita's Snapper Curry Recipe
Celebrity chef Peter Kuruvita, of the Noosa Beach House, shares his tasty recipe for fish curry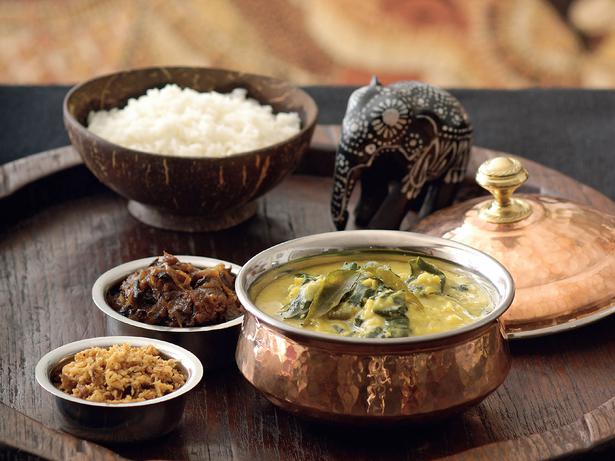 Wednesday May 17, 2017
SNAPPER CURRY

A delicious fish curry by celebrity chef and restaurateur Peter Kuruvita, of the Noosa Beach House.
Ingredients
50ml oil
1 medium onion, peeled and
roughly chopped
2 cloves garlic, peeled and
roughly chopped
1 x 5cm pandan leaf, roughly torn
2 sprigs curry leaves
2 green chillies, split lengthways
½ tsp fenugreek
½ tsp fennel seeds
1 tsp chilli powder
2 tsp cumin powder
1 tsp coriander powder
1 tsp turmeric
3 pieces goroka, or tamarind
1 cinnamon stick, broken into pieces
½ litre water
1 x whole snapper, approximately 2kg filleted (skin on), with the
bones reserved
500ml coconut milk
100ml oil, to cook the fish
Salt
1. Heat the oil in a large pot over medium heat and add the onion, garlic, pandan leaf, curry leaves and green chilli. Fry until the onions are translucent.
2. Add the dry spices, roast for 2 minutes add water and snapper bones and stir to combine.
3. Leave to cook until the mixture has reduced by half.
4. Add the coconut milk and bring to the boil. Simmer for 5 minutes and turn off the heat.
5. Remove the snapper curry from the stove and strain it into a separate bowl. Set aside until ready to serve.
6. To cook the fish, heat the oil in a pan over high heat. Add the salt to season the pan. Gently place the snapper fillets in the pan, skin side down, and leave to cook for a few minutes, or until the skin is crispy. Turn the fish and cook the other side. Once cooked, remove from heat and serve.
7. To serve, place a piece of snapper on the plate, skin side up, and drizzle with the strained sauce.
Share this:
More Food & Drink / Recipes