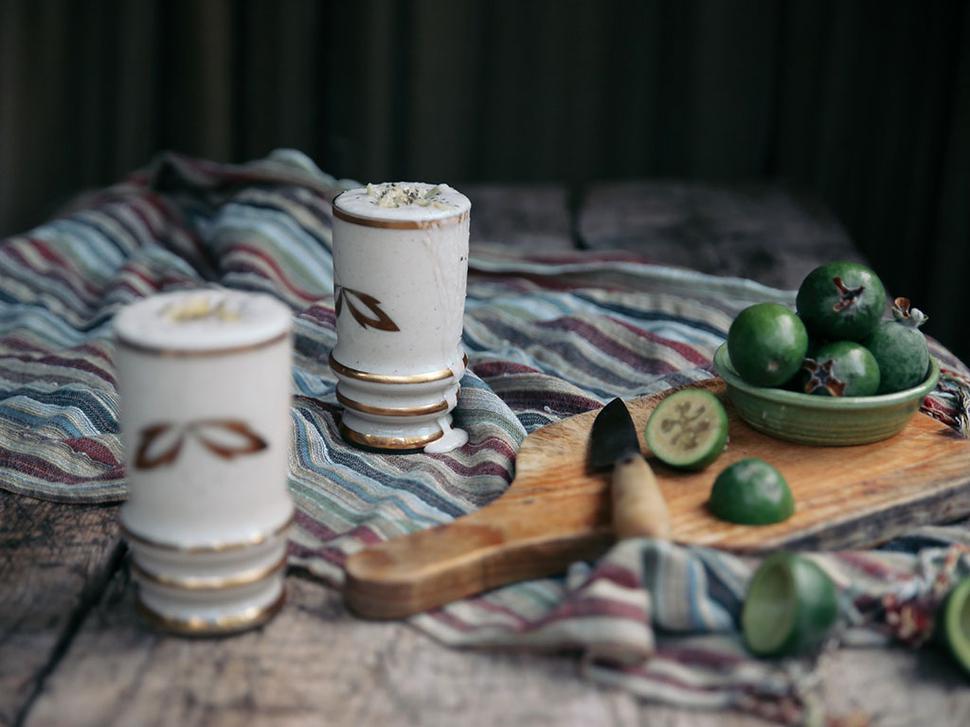 Petite Kitchen's Feijoa, Honey and Yoghurt Smoothie
Eleanor Ozich shares a flavoursome feijoa smoothie
Thursday April 9, 2015
How do you explain the magical taste of a feijoa? A strangely beautiful combination of guava, pineapple, mint and lemon, with a delicious sharp tartness tied in with a subtle fragrant sweetness. Its creamy pale green flesh is grainy and textured similar to a pear, although when perfectly ripe, it contains a soft jelly centre.
Come autumn, the fruit falls to the ground when ripe and at its fullest flavour. Feijoas are exceptionally excellent in a crumble or pie, although, I have to admit, I am quite excited about this simple autumn spiced smoothie. Enjoy while feijoa season lasts.

FEIJOA, HONEY & YOGHURT SMOOTHIE
• Flesh of 6 feijoas
• 2 ripe bananas
• 1 Tbsp honey
• 1 Tbsp nut butter*
• 1 cup milk of your choice
• 3 Tbsp natural yoghurt
• 1 tsp cinnamon
• 1 tsp vanilla extract
• 8-10 ice cubes
* I like almond butter, although you could also use a handful of your favourite nuts.

1. Add all ingredients to a blender, and blend until smooth.
2. Pour in to glasses and top with chopped feijoa and a sprinkle of chia seeds if desired. Enjoy immediately.
• For more from Eleanor Ozich see petite-kitchen.com
Share this:
More Food & Drink / Morning & Afternoon Tea