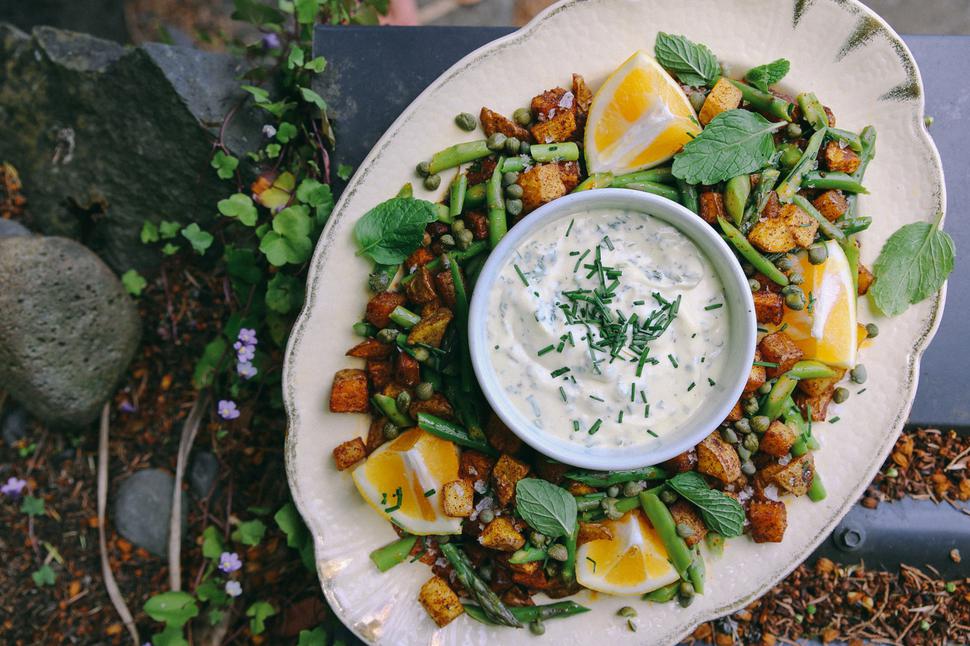 Petite Kitchen's Grilled Asparagus with Herbed Cream Fraiche Recipe
Eleanor Ozich shares a fresh and tasty potato, asparagus and mint dish
Thursday Nov. 3, 2016
Herbed cream fraiche brings a snap of acidity and a touch of richness to this crispy potato, asparagus and mint salad. There is a lovely vibrancy and freshness, with green as the predominant colour. I like to think of this as the kind of meal I could never tire of.
GRILLED ASPARAGUS WITH HERBED CREAM FRAICHE
Serves 4 as a side, or 2 as a main
3 large potatoes, diced into 2cm pieces
2 Tbsp smoked paprika
2 Tbsp tapioca flour (you could use most types of flour)
1 tsp sea salt
Extra virgin olive oil for drizzling
1 cup creme fraiche, or natural yoghurt
Handful of fresh chives and parsley, finely sliced
1 bunch of asparagus, woody ends removed
Large handful of fresh mint leaves
1/4 cup capers

1 lemon, cut in to quarters
1. Pre-heat the oven to 180 C.
2. Toss the cubes of potato in the smoked paprika, flour and sea salt.
3. Transfer to a large baking tray, drizzle with extra virgin olive oil, and roast for 25-30 minutes, or until crisp, and cooked through. Allow to cool.
4. Combine the creme fraiche, chives and parsley, mix until combined.
5. Roughly slice the asparagus at an angle, then blanch in boiling water for about 3 minutes. Transfer to a colander, and run under cold water to stop the cooking process.
6. In a large bowl, toss together the potatoes, asparagus, mint and capers along with a drizzle of extra virgin olive oil and a flick of sea salt. Transfer to a serving dish, and serve alongside the herbed creme fraiche and lemon slices.
Share this:
More Food & Drink / Recipes