Petite Kitchen's Lime and Coconut Yoghurt Bread Recipe
This fragrant loaf is even better with a thick smear of butter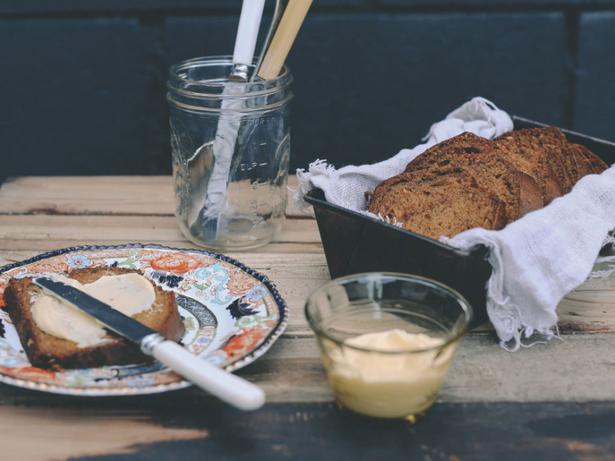 Thursday July 2, 2015
Adding a generous amount of lime zest to this coconut yoghurt loaf creates a bewitching perfume as it bakes in the oven. The hint of tartness makes it particularly good toasted with a thick smear of butter, honey or berry jam. Lemon or orange also works well if you do not have any limes in your fruit bowl.

LIME & COCONUT YOGHURT BREAD
1½ cups spelt flour*
¾ cup rapadura or coconut sugar
½ cup melted coconut oil or olive oil
¾ cup coconut yoghurt or natural yoghurt
3 free range eggs, lightly beaten
Zest of two lemons
1 tsp baking soda
* You could use buckwheat or all-purpose gluten-free flour to make this gluten free if you prefer.
1. Preheat oven to 180C and grease a loaf tin or line with baking paper.
2. In a large bowl, combine all dry ingredients together. Whisk in Greek yoghurt, eggs and lemon zest until well combined.
2. Gently fold in melted coconut oil, the batter will be thick and shiny.
3. Pour batter into prepared loaf tin and smooth out evenly.
4. Bake in oven for 40-45 minutes, or until a skewer comes out clean when inserted into centre.
5. Allow loaf to cool in tin for 5-10 minutes, and then turn out on to a wire rack to cool completely.
6. Cut into thick slices and enjoy with a smear of butter and jam.
• For more from Eleanor Ozich see petite-kitchen.com
Share this:
More Food & Drink / Breakfast & Brunch